As Tutwiler Hall enters its final academic year and construction of the new residence hall bearing the same name nears its August 2022 completion date, UA students and alumni can bring home a piece of the original building and support future residents.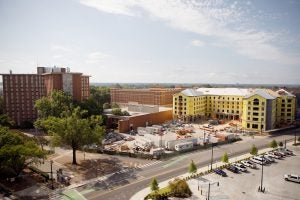 UA's Division of Student Life is raising money for housing scholarships by selling a limited supply of bricks and room numbers from the historic Tutwiler Hall as well as customizable pavers that will be featured on the Tutwiler Promenade at the new Tutwiler Hall.
Since 1960, Tutwiler Hall has been a home away from home to more than 40,000 UA students. Once construction of the new residence hall is complete, the original facility will be demolished.
"We're excited about the new Tutwiler Hall and recognized that the current building contains a history and legacy that will live on long after demolition day," said Dr. Matt Kerch, executive director of housing and residential communities. "When Amber Capell had the idea to share the opportunity with past residents to take keepsakes from the building, we knew that could be a great way to not only raise money for future housing scholarships but also let the alumni of Tutwiler keep a piece of their UA history forever.
"We're looking forward to the new space and being able to offer scholarships to future residents from the proceeds of this fundraiser."
According to Amber Capell, UA Division of Student Life's director of external engagement and former Tutwiler Hall resident, housing scholarships relieve a financial burden and contribute to student achievement.
"While UA does have some housing scholarships, the need is much greater than what we currently have the funding for," said Capell. "Being able to award housing scholarships to not only entering freshmen who need a little extra financial support but also current students who find themselves without housing is vital to our student success."
The new Tutwiler Hall will consist of double-occupancy units with private bathrooms. Each level includes small, social gathering spaces that will provide a sense of comfort and community for students. To better support movement through the facility, plans include the installation of six elevators.
To learn more about the fundraiser and purchase a piece of Tutwiler Hall, visit the UA Division of Student Life website.
Source
Amber Capell, UA Division of Student Life, amber.capell@ua.edu
Contact
Bryant Welbourne, UA Strategic Communications, bryant.welbourne@ua.edu
The University of Alabama, part of The University of Alabama System, is the state's flagship university. UA shapes a better world through its teaching, research and service. With a global reputation for excellence, UA provides an inclusive, forward-thinking environment and nearly 200 degree programs on a beautiful, student-centered campus. A leader in cutting-edge research, UA advances discovery, creative inquiry and knowledge through more than 30 research centers. As the state's largest higher education institution, UA drives economic growth in Alabama and beyond.