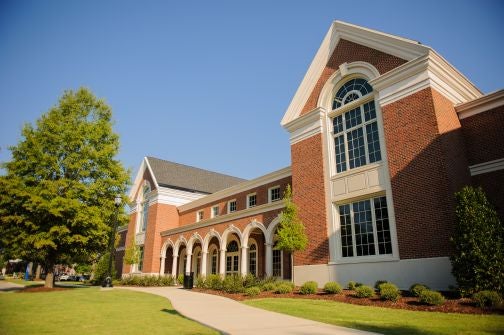 TUSCALOOSA, Ala. – The University of Alabama School of Music will premiere its official hymn — a rare tradition at a collegiate school of music — at its annual School of Music Opening Convocation at the Frank Moody Music Building Friday, Aug. 20, at noon.
The event is free and open to the public. The Frank Moody Music Building is located at 810 Second Ave., Tuscaloosa, on The University of Alabama campus.
"I think this is absolutely wonderful and will add a very nice piece to our identity that sets us apart," said Charles "Skip" Snead, director of the school, which is part of the College of Arts and Sciences. "It will be a unique thing for our School of Music to have that separates us into a very elite group of music schools nationally. I'm not aware of other schools of music throughout the nation that have an official hymn."
Snead said the hymn, titled "After a Season of Silence: A Huxford Hymn," was composed by Amir Zaheri, head of UA's music composition faculty. The title is a reflection on 2020, a year in which many concerts and other musical performances were silenced because of the COVID-19 pandemic.
The hymn is dedicated to the School of Music and commemorates one of the most significant donors in the school's history, Camilla Huxford, who has been invited to attend the premiere.
Both students and faculty at the School of Music will sing the hymn, and the Holtkamp organ in the concert hall will be used in the performance as well.
"The words of the hymn are very uplifting and forward-looking, and very much about the School of Music, what we do and why it's important," Snead said.
Going forward, the hymn will be sung at every open convocation in the fall and every other significant musical event by UA's School of Music.
Source
Charles "Skip" Snead, ssnead@ua.edu, 205-348-7110
Contact
Jamon Smith, UA Strategic Communications, jamon.smith@ua.edu, 205-348-4956
The University of Alabama, part of The University of Alabama System, is the state's flagship university. UA shapes a better world through its teaching, research and service. With a global reputation for excellence, UA provides an inclusive, forward-thinking environment and nearly 200 degree programs on a beautiful, student-centered campus. A leader in cutting-edge research, UA advances discovery, creative inquiry and knowledge through more than 30 research centers. As the state's largest higher education institution, UA drives economic growth in Alabama and beyond.