The days of having to wait for a train to pass to get to and from campus will soon be in the rearview mirror when the  2nd Avenue Overpass opens the morning of Aug. 4.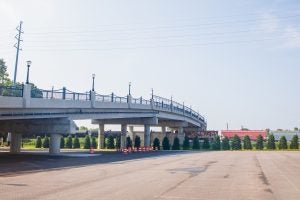 The 2nd Avenue Overpass will connect 15th Street to Paul W. Bryant Drive near the east side of Coleman Coliseum, the Capstone Parking Deck and the Bryant Conference Center. This entryway to campus will provide a centrally located campus corridor that won't be hampered by the train tracks and will provide a dramatic view of campus from the top of the bridge.
Aside from providing a new option for the more than 70,000 vehicles that cross the train tracks running along the south edge of campus every day and helping with traffic flow, the new three-lane overpass will also be especially helpful for emergency response and access to DCH Regional Medical Center.
The overpass features a 10-foot-wide bike/walking path with a concrete protective barrier and plenty of lighting.
The project was designed to provide parking to the greatest extent possible under the overpass to minimize the loss of parking near Coleman Coliseum, Sewell-Thomas Stadium and the UA School of Law. Consideration of the loss of parking was taken into account when constructing the nearby Capstone Parking Deck and the structure was built to include parking spots eliminated by the overpass.
The construction of the 2nd Avenue Overpass was partially supported by the U.S. Department of Transportation's Infrastructure for Rebuilding America program that provides assistance to highway and freight projects of national or regional significance.