Imagine suddenly finding yourself in a situation where a friend or co-worker is having a heart attack. What would you do?
University of Alabama buildings are equipped with automated external defibrillators, or AEDs, that can be used for sudden cardiac arrest medical emergencies. AEDs can be located on Building Emergency Plans, which can be found near exits and elevators in each building, by using the UA Safety app and on the campus map.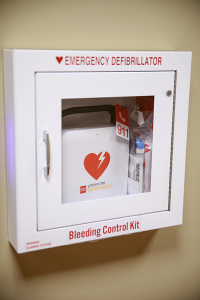 UA's Office of Environmental Health and Safety is currently replacing older model AEDs with new Physio-Control Lifepak CR2 models, which are easy to use.
The Lifepak CR2 is the only AED that allows chest compressions during echocardiogram rhythm analysis, reducing the time CPR must be paused for defibrillation. When continuous CPR can be provided to the patient, it improves blood circulation and increases chances of survival.
The new AEDs include simple graphics and automated features to help users remain focused during an emergency.
Clear, calm voice directions will guide the user through step-by-step instructions during the entire rescue process. The volume of voice directions automatically adjusts to compensate for background noise.
The new AEDs will also interface with the AEDs used by Tuscaloosa Fire Rescue to provide paramedics with immediate information on the patient's condition.
In addition to AEDs, UA has implemented a "Stop the Bleed" campaign through bleeding control kits. These kits are in AED cabinets marked with a visible sticker.
Bleeding control kits are not intended to be a substitute for traditional first aid kits. They are intended to be used in emergency situations where life-threatening bleeding exists and first responders are not immediately available.
When an AED or bleeding control kit is used, always notify UAPD  by calling 911 or 205-348-5454.
The University also provides Save a Life Training, or SALT, for individuals with little or no medical training. The class, which is offered on the third Friday of each month from 9 to 11 a.m., teaches skills needed to help respond to and deliver lifesaving care to someone in need before emergency services arrive. For more information on SALT, contact Travis Parker at teparker2@ua.edu.
Contact
Shane Dorrill, UA Strategic Communications, shane.dorrill@ua.edu, 205-348-8319
The University of Alabama, part of The University of Alabama System, is the state's flagship university. UA shapes a better world through its teaching, research and service. With a global reputation for excellence, UA provides an inclusive, forward-thinking environment and nearly 200 degree programs on a beautiful, student-centered campus. A leader in cutting-edge research, UA advances discovery, creative inquiry and knowledge through more than 30 research centers. As the state's largest higher education institution, UA drives economic growth in Alabama and beyond.