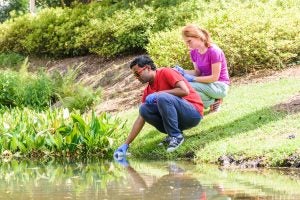 TUSCALOOSA, Ala. – The University of Alabama is part of a collaboration to study water access and quality in Alabama and internationally while supporting study abroad exchange throughout the Americas.
UA, along with Tuskegee University and the Universidad del Norte in Barranquilla, Colombia, will investigate water quality, access, expansion and cultural diversity in Alabama and Barranquilla, Colombia.
The collaboration was one of 10 that received funding through the 100K Strong in the Americas Innovation Fund competition sponsored by the United States Department of State's Bureau of Western Hemisphere Affairs and Colombian Institute of Educational Loans and Studies Abroad, or ICETEX.
"UA is honored to receive this prestigious grant from the U.S. Department of State that will help further strengthen our partnership between the Universidad del Norte and Tuskegee University," said Dr. Carolina Robinson, director of Education Abroad at UA. "This grant will allow us to increase regional student mobility between the Americas and provide an innovative research program for our students."
The universities' proposal titled "Alabama-Colombia: Water, Access, Sanitation and Hygiene (WASH) Partnership" seeks to prepare students studying science, technology, engineering and mathematics, commonly referred to as STEM, to solve global water issues while working in diverse teams. These teams will develop resources to improve access to safe water and sanitation through the comparative study of ecosystems in Alabama's Black Belt and Colombia's Cienaga de Mallorquín region.
"Minoritized students are underrepresented and underserved not only in STEM, but also study abroad," said Robinson. "This project will increase access to international programming through meaningful hands-on learning. Creating diverse student research teams adds value to projects through the development of innovative solutions."
The 100K Strong in the Americas Innovation Fund is the dynamic public-private sector collaboration among the U.S. Department of State and Partners of the Americas working with companies, foundations and academic networks to champion the power of education to support innovative partnerships and training programs between the U.S. and the rest of the Western Hemisphere. The 100K Fund inspires U.S. universities and colleges to partner with higher education institutions in Latin America and the Caribbean to design and carry out new models of academic training and exchange programs throughout the Americas.
Contact
Bryant Welbourne, UA Strategic Communications, bryant.welbourne@ua.edu
The University of Alabama, part of The University of Alabama System, is the state's flagship university. UA shapes a better world through its teaching, research and service. With a global reputation for excellence, UA provides an inclusive, forward-thinking environment and nearly 200 degree programs on a beautiful, student-centered campus. A leader in cutting-edge research, UA advances discovery, creative inquiry and knowledge through more than 30 research centers. As the state's largest higher education institution, UA drives economic growth in Alabama and beyond.