Awards and Elections
Dr. Wendy Castenell, assistant professor, department of art and art history, has been named to the Tyson Scholars Think Tank at Crystal Bridges Museum of American Art, a competitive, three-week fellowship residency for scholars of American art.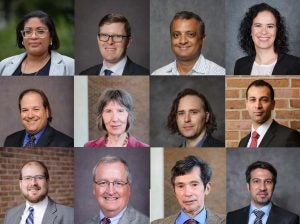 Dr. Vishal K. Gupta, associate professor, department of management; Dr. Sandra Mortal, professor, department of economics, finance and legal studies; and doctoral student Xiaohu Guo received global recognition from Responsible Research in Business and Management by the Academy of Management for their research on "CFO Gender and Financial Statement Irregularities," published in the Academy of Management Journal. Gupta and Dr. Lou Marino, professor of strategic management, among other co-authors, received the 2021 Best Paper Award at the Eastern Academy of Management, a professional association of management researchers, for their paper "CEO Humility, Corporate Entrepreneurship, and the Moderating Influence of Environmental Factors."  
Dr. James W. Harris, assistant professor of chemical and biological engineering, was selected for the Ralph E. Powe Junior Faculty Enhancement Award from the Oak Ridge Affiliated Universities foundation to study characterization of polyfunctional catalysts to enable conversion of ethanol to jet fuel.
Dr. Hamed Moftakhari, assistant professor of civil, construction, and environmental engineering, was recognized by the Coastal and Estuarine Research Federation with a Cronin Award, which recognizes the significant accomplishments of an estuarine scientist in the early stages of career development.
Members of the Southeastern Conferences Return to Activity and Medical Guidance Task Force, which includes Dr. Jimmy Robinson, a sports medicine physician at University Medical Center, received the Michael L. Slive Distinguished Service Award. The task force is a group of volunteer medical professionals appointed by each of the SEC's member universities that helped provide continuing guidance as the SEC conducted intercollegiate athletic competition during the 2020-21 academic year.
Performances
Tyler Bradley Walker, assistant professor of composition, and part of the musical duo Gone to Color, was featured on National Public Radio's All Songs Considered discussing the duo's debut single "the 606."
Publications
Richard Delgado, John J. Sparkman Chair of Law, and Jean Stefancic, professor, Law School, coauthored "Radical Method," 24 U.C. Davis Social Justice Law Review 3-20 (2020).
Shahar Dillbary, James M. Kidd, Sr. Professor of Law, authored "The Case against Collective Liability," 62 Boston College Law Review 391-452 (2021).
Benjamin J. McMichael, assistant professor, Law School, coauthored "State-Created Fetal Harm," 109 Georgetown Law Journal 475-522 (2021).
The University of Alabama, part of The University of Alabama System, is the state's flagship university. UA shapes a better world through its teaching, research and service. With a global reputation for excellence, UA provides an inclusive, forward-thinking environment and nearly 200 degree programs on a beautiful, student-centered campus. A leader in cutting-edge research, UA advances discovery, creative inquiry and knowledge through more than 30 research centers. As the state's largest higher education institution, UA drives economic growth in Alabama and beyond.