The University of Alabama team of 65 students spanning a variety of majors from engineering to communications and business took home first place for year three of the automotive engineering competition.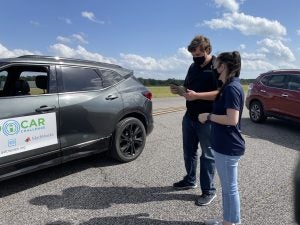 The four-year EcoCAR Mobility Challenge tasks student teams at 11 universities with improving a 2019 Chevrolet Blazer's fuel efficiency by incorporating a hybrid-electric powertrain and optimizing its operation using connected and automated vehicle features. During the third year of competition, teams switched their focus from design and integration to development and performance.
"This year's team demonstrated strong dedication to support each other and incredible focus under very unusual circumstances," said Dr. Paul Puzinauskas, associate professor of mechanical engineering and the team's lead adviser.
In addition to the first-place finish, the UA team also won first in Project Management, Best Impact Report, Best Year-End Project Status Presentation, Best Propulsion Controls and Modeling Presentation, and Best Year Three Vehicle Technical Inspections.
"We were the only team to receive full points for both the fall and spring vehicle technical inspection," said Madeline Gilmer, the team's project manager and a recent graduate of the STEM Path to the MBA program with a bachelor's in mechanical engineering and a Master of Business Administration from Woodstock, Georgia.
Additional honors were Outstanding Team and Sponsor Collaboration, first place dSPACE Leadership in Validation Award, and second place MathWorks Model-Based Design Award. Brandon Stevens, Propulsion Controls and Modeling lead, won the Excellence in Leadership Award. Gilmer won a General Motors Women in STEM Award.
"We were the only team to receive full points for both the fall and spring vehicle technical inspection."
The pandemic presented several challenges for the team including limited access to labs. Gilmer said some students worked from home during the summer, which set the team up for success once they were able to be together. However, preparation did not go off without a hitch. The team experienced a setback but was able to overcome.
"Early in the fall, we over-sped the engine during dynamometer testing that resulted in the need to replace our engine and components on our electric motor assembly. Our Propulsion System Integration team was able to do this quickly and effectively, which allowed us to perform well in the fall vehicle technical inspection," Gilmer said.
Because of the uncertainty of the pandemic, she said many of the competition's written, verbal and vehicle deliverables were changed and the deadlines were rescheduled, making it a true challenge to complete tasks in a timely manner.
"We combatted this by creating stretch goals for each task to ensure we were meeting competition requirements, while also finding areas to strive for more," Gilmer said.
Jordon Olson, the team engineering manager and a master's student in mechanical and electrical engineering from Galesburg, Illinois, said he coordinated vehicle testing locations through unpredictability.
"COVID made it more difficult for our team to lock down testing facilities to perform vehicle events," he said. "We were eventually able to secure the Tuscaloosa National Airport and Barber Motorsports Park for testing, but there was a lot of work that went into figuring out the logistics for using these two very different venues."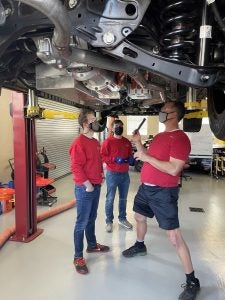 The team came up with several schedules to plan for lab occupancy and set priority tasks. Gilmer said having strong senior leadership helped give the team a boost this year and made them better prepared for the competition.
In 2018, the UA team finished third in the final year of the four-year EcoCAR 3 program, which consisted of 16 teams working on a Chevrolet Camaro. The UA team held the third-place spot in the first year of the Mobility Challenge. While a few awards were given virtually last year, teams were not given an overall rank in Year Two because of the pandemic.
"This victory would not have been possible without the efforts of the many dedicated and brilliant students that have built our program since its inception at the start of EcoCAR 3 in 2014, and I would like to thank them all for the role they played in this year's result," Puzinauskas said.
The team feels a lot of confidence and momentum going into Year Four, but Puzinauskas said they have a lot of new ideas for improvement.
"The victory is a satisfying affirmation of an outstanding performance, and I look forward to seeing how we can improve next year," he said.
Other senior leaders on the team were Zachary Davis, Propulsion System Integration lead, and Ashley Phan, Connected and Automated Vehicles lead.
Dr. Hwan-Sik Yoon, associate professor of mechanical engineering, and Mike Pope, instructor of marketing in the Culverhouse College of Business, also advise the team along with the designated General Motors mentor, Lisa Jesme.
The competition is supported by several sponsors including General Motors, MathWorks, the U.S. Department of Energy, the UA College of Engineering and the Culverhouse College of Business.
UA's EcoCAR team welcomes students from any major determined to develop professionally and willing to dedicate themselves to the program. Anyone interested in joining the team can contact Puzinauskas ppuzinauskas@eng.ua.edu or Oakley Prell at joprell@crimson.ua.edu.