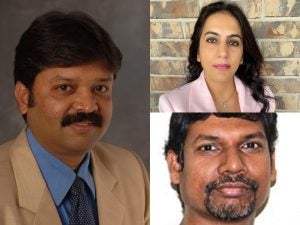 TUSCALOOSA, Ala. – Researchers at The University of Alabama will study a novel nanomedicine treatment for acute kidney injury, a common disease with no federally-approved medication.
The five-year, $1.6 million grant from the National Institutes of Health is the fourth active top-tier NIH grant, formally called R01, for Dr. Ravi Kumar, professor in the College of Community Health Sciences with an adjunct appointment in the College of Engineering's Department of Chemical and Biological Engineering. Fewer than 1 percent of NIH R01-funded grant awardees have four active R01 grants, according to a study published last year.
Kumar recently joined UA along with Drs. Meenakshi Arora and Raghu Ganugula, associate professor and assistant professor, respectively, in CCHS and part of the research team for the latest grant.
Kumar is an internationally recognized leader in the fields of nanoscience and nanomedicine, which broadly aim to deliver drugs more effectively to the body using particles that are one-billionth the size of a meter.
"Research at The University of Alabama powers improvements that can transform lives through cutting-edge innovations in nanomedicine, as evidenced by this prestigious award to Ravi and his team," said Dr. Russell J. Mumper, UA vice president for research and economic development. "UA's expanding, high-performing research enterprise will continue to make a difference in the success of our students and in offering solutions to society's health challenges."
The R01 grant will allow the UA team to engineer nanoparticles comprised of a common gastrointestinal microbe derived from digestive metabolism of a natural antioxidant present in several fruits and vegetables and study their effectiveness in treating acute kidney injury, a non-rare side-effect of some cancer drugs, sepsis, heart surgeries, lengthy hospital stays and trauma.
"We are excited that Dr. Kumar and his team have received their fourth R01 from NIH," said Dr. Richard Friend, dean of UA's College of Community Health Sciences. "This is an important area of research that can impact the lives of millions."
AKI, which frequently leads to acute renal failure, affects about 13 million people worldwide each year and is characterized by kidneys ceasing to function over days or less. Unlike long-term kidney damage, AKI can be reversed if treated quickly, but it is fatal in some cases and can progress to chronic kidney disease when not fatal. Current treatments include dialysis, regulating fluid, and medicines to control vitamins and minerals, however, there is no single drug to treat AKI.
"There is a great need for developing effective therapies for AKI that is associated with high morbidity and mortality," said Kumar. "The proposed research is relevant to public health as it will develop novel therapeutic intervention that can treat AKI, which has already shown promise in our earlier work."
The team has studied Urolithin A, a compound not found in any food, but created in the gastrointestinal tract from converting fruits and vegetables to energy. It is known to prevent cell damage, regulate inflammation and hold off cell death. However, it is not absorbed well in the gastrointestinal tract, limiting its therapeutic potential as it would require frequent high doses to gather enough of it in the body for any medical treatment.
Kumar's research group has shown, however, that using nanoparticles of the Urolithin A coated with a biochemical substance that actively target the gastrointestinal tract cells necessary for absorption increase Urolithin A in the body, making it a viable therapy. They also found Urolithin A can thwart AKI by preventing a cascade of inflammation and cell death that causes kidneys to suddenly fail.
The new grant will allow the UA researchers to study the structural elements and behavior of their novel delivery of Urolithin A to optimize the amount of the compound in the body, assess which nanoparticles best work through oral medication, understand the therapy's interaction with cisplatin to move the research toward a clinical trial in cancer patients.
"The knowledge gained will be valuable in developing Urolithin A as not only an oral therapeutic for AKI and for other vascular and neuroinflammatory diseases in which plain Urolithin A has shown some benefit but also as an adjuvant in combination therapies for cancer treatment," Kumar said.