For nearly 21 years, Kristina Patridge has dedicated her life to The University of Alabama through Bama Dining.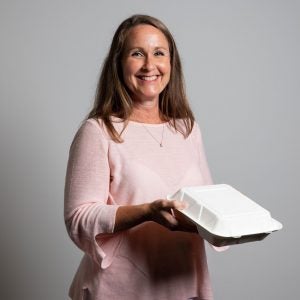 As the director of University Dining Services, Patridge has seen the campus evolve from 18,000 students and six dining locations to now more than 37,000 students and 32 dining facilities. And when the COVID-19 pandemic made its way around the world, Patridge was ready to assist in whatever ways possible.
Striving to make dining on campus as "normal" as possible was a challenge — how could the University safely provide meals to its students? And then how could Dining Services get food to those who contracted the virus and were in isolation? She doesn't call herself a hero, just someone who cares about the well-being of the student population.
"At the time, we had to figure out how we were going to do this, how are you to feed these masses of people that we usually do," Patridge said. "And then the next thing that that we had to navigate is how do we feed students in isolation? We had to make sure it was safe, and that the students were happy."
Patridge and the team got creative. From using a Qualtrics survey to get meal orders from students who stayed on campus during the pandemic or in isolation, to bringing small gifts to brighten the students' stay, Patridge's support and spirit never wavered. She, along with her team, brought personal-sized Keurigs and K-cups for students to keep in their rooms. If a student was celebrating a birthday while isolating, Patridge would personally go to Edgar's bakery to get a small cake, write a card from Bama Dining, and the chef would make sure the student had a steak and shrimp dinner. It wasn't just birthdays — Patridge prepared game day foods and passed out shakers. Over Easter, Dining Services made small baskets filled with goodies.
"It's truly the people in Bama Dining, they understand the mission and the vision of the University," Patridge said. "They really care about the students. I feel like I was the facilitator, but I can't help but get involved and do things, because we're asking the team to do that. We have a really great boots-on-the-ground team. It's been a learning experience, but I am thankful I could do my part during that time."
Nominated by Theresa Shreve, Patridge is humbled to be considered an everyday champion. "As COVID-19 changed the day-to-day operations of campus, it did not change Kristina Patridge's focus of serving the University Community," Shreve said. "She continued to work even harder for students by promoting hospitality in all dining facilities with implementing plans and adapting to things that changed."
About Everyday Champions 
UA is home to champions both on and off the field and in and out of the classroom. Everyday Champions are staff and faculty members who work behind the scenes to keep the campus running, show enthusiasm for supporting the UA campus, faculty, staff and students and embody the UA spirit of pride, determination and ingenuity. Submit an Everyday Champion you know to be considered for a feature. 
Contact
Caroline Gazzara-McKenzie, Strategic Communications, cgmckenzie@ua.edu or 205-348-0825
The University of Alabama, part of The University of Alabama System, is the state's flagship university. UA shapes a better world through its teaching, research and service. With a global reputation for excellence, UA provides an inclusive, forward-thinking environment and nearly 200 degree programs on a beautiful, student-centered campus. A leader in cutting-edge research, UA advances discovery, creative inquiry and knowledge through more than 30 research centers. As the state's largest higher education institution, UA drives economic growth in Alabama and beyond.