Keith Norton has always been in the business of people.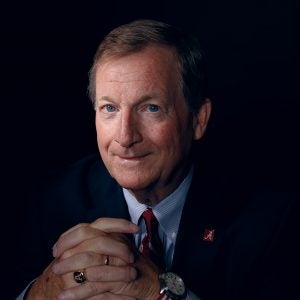 As a second-generation alumnus of The University of Alabama, Norton grew up going to UA events with his father, Oliver Norton. He remembers seeing Joe Namath play ball and Wendell Hudson make history, all before he even attended UA. After graduating in 1977 with his bachelor's in marketing, Norton continued to be in the people business, working in consumer relations for almost 40 years.
"I try to encourage people every day. I look for the good in everyone," Norton said. "A person once told me a long time ago that you can see the imperfections in people very easily. What's important to know is the goodness that people have and that everybody has a gift, we just have to figure out what it is."
Norton joined UA in the fall of 2017 as the director of development for the Culverhouse College of Business, which means he gets lots of face time with students, faculty and alumni. His position includes working with donors and raising money for endowments. He was in San Francisco, Calif., in March 2020 when the world began to shut down. In his line of work, it became difficult to meet others and he knew he wasn't alone.
As everything turned to digital communications, Norton realized that it was hard to communicate and express genuine emotions via Zoom. In his own words, "I want to die on the hill of helping young people achieve their dreams and aspirations at The University of Alabama." He had always been a writer of notes and cards, so he started writing letters more, even sending notes around campus to help inspire others. Norton made it a point last fall to meet one new person a day, and brighten their lives — something he's come to love even more.
Dr. Rich Houston said Norton has more UA spirit than many, routinely stopping by others to check in on them, easing parent concerns and being available to anyone who may need help. While Norton may think he's not a champion, he inspires so many and is the lighthouse guiding people during difficult times, including the COVID-19 pandemic.
"I feel like at my age and my tenure in life and where I am that it's not about Keith, it's about how can I help other people," Norton said. "I worried about the students the most during this past year because they had the most change of anybody, probably. I worried about seclusion, emotionally drained and their interaction with others, and felt that I was very needed to help be the support system I can be."
About Everyday Champions
UA is home to champions both on and off the field and in and out of the classroom. Everyday Champions are staff and faculty members who work behind the scenes to keep the campus running, show enthusiasm for supporting the UA campus, faculty, staff and students and embody the UA spirit of pride, determination and ingenuity. Submit an Everyday Champion you know to be considered for a feature. 
Contact
Caroline Gazzara-McKenzie, Strategic Communications, cgmckenzie@ua.edu or 205-348-0825
The University of Alabama, part of The University of Alabama System, is the state's flagship university. UA shapes a better world through its teaching, research and service. With a global reputation for excellence, UA provides an inclusive, forward-thinking environment and nearly 200 degree programs on a beautiful, student-centered campus. A leader in cutting-edge research, UA advances discovery, creative inquiry and knowledge through more than 30 research centers. As the state's largest higher education institution, UA drives economic growth in Alabama and beyond.