Dana Williams' journey to the Capstone started in 2006 as a freshman in college, but what she didn't expect was to make the Capstone her home.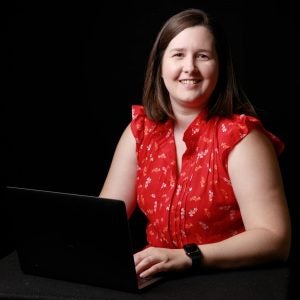 Williams graduated in 2011 with her bachelor's degree in psychology, earned a master's degree in social work in 2015, and as of later this summer, she'll earn her doctor of education degree in higher education administration.
But even though Williams found her place at the Capstone as a student, a stroke of luck helped keep her at UA when she got her internship at Student Care and Well-being. Williams is a case manager for Student Care and Well-Being, a position she loves and has been in for nearly six years. When the COVID-19 pandemic made its way to the United States, Williams quickly became the lead on UA's emergency assistance program. Emergency student funds were originally created after the April 27, 2011 tornado, and the program was initially meant for natural disasters that affected the UA community but quickly became needed in 2020.
What usually was a few hundred emergency assistance requests, turned into thousands by the start of summer 2020. Initially, Williams said that financial concerns were among the biggest worries for students, especially if the students or families were affected financially by the pandemic. Requests peaked last summer and fall, before slowly falling back into a "normal" range. Williams attributes the decrease in requests due to the accessibility of jobs.
"It's been a journey," Williams said. "That's obviously changed in the past 18 months. We were very fortunate to have the Acts of Kindness Support Fund prior to the pandemic. We also have the Tide Together Student Support Fund."
Beyond financial requests, Williams and her team partnered with the Office of Information and Technology and UA Libraries to secure personal hotspots for students to use if they didn't have internet access, laptops and webcams for testing. Looking ahead, Williams is prepared for whatever is thrown her way next.
Nominated by Stacy Jones, Williams said she is honored to be recognized but notes that it was a team effort to get to where the campus is today.
"We have a really good team in [Student Care and Well-Being]," Williams said. "I'm not the only one in the office — I did spearhead managing the influx of applications, but we had support across the board."
About Everyday Champions
UA is home to champions both on and off the field and in and out of the classroom. Everyday Champions are staff and faculty members who work behind the scenes to keep the campus running, show enthusiasm for supporting the UA campus, faculty, staff and students and embody the UA spirit of pride, determination and ingenuity. Submit an Everyday Champion you know to be considered for a feature.
The University of Alabama, part of The University of Alabama System, is the state's flagship university. UA shapes a better world through its teaching, research and service. With a global reputation for excellence, UA provides an inclusive, forward-thinking environment and nearly 200 degree programs on a beautiful, student-centered campus. A leader in cutting-edge research, UA advances discovery, creative inquiry and knowledge through more than 30 research centers. As the state's largest higher education institution, UA drives economic growth in Alabama and beyond.