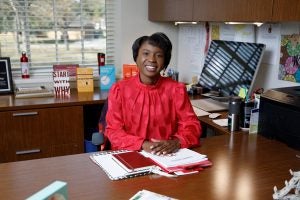 Sometimes, the path of one's career seems to be predestined. That could be said about Dr. Victoria Whitfield Lewis.
Born and raised in Tuscaloosa, Lewis spent plenty of time at The University of Alabama, as her now retired mom worked for 32 years in UA's School of Social Work.
"Growing up, the UA campus was home, in more ways than one," said Lewis, director of UA's Early College and this year's We Are UA staff ambassador.
Lewis attended UA and earned a bachelor's degree in education. She spent several years teaching high school English, then a few years working in secondary administration. Eventually, she also earned master and doctorate degrees from UA.
Outside of three years working in Montgomery, she has lived her entire life in Tuscaloosa.
"I loved my time in Montgomery, but I missed Tuscaloosa," said Lewis. "It's the reason I decided to come back and work for UA. I missed my home, the connections I had here, and I wanted to go back to that familiarity."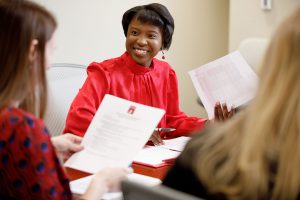 That sense of belonging she's always felt is one of the things Lewis loves most about UA.
"There is an experience here of connection that I felt as a student, that I continue to feel as a staff member," said Lewis. "A lot of the campus experience lends itself to that, but I think the collaborative relationships and partnerships I've built in my staff role contribute to that, as well."
In Lewis's role with Early College, she continues to work with students — something she's always been passionate about — but in a different aspect.
"I love that I have the opportunity to work with students who have made the decision to get a head start on their college careers," she said. "I get to watch students begin their college journeys, and I get to see firsthand their successes. It's a lot of what motivates me on a daily basis."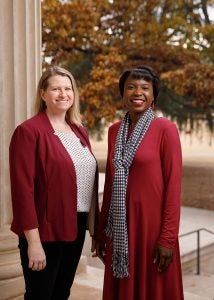 Lewis's love for and pride in UA and the UA community are among the many things that make her a fitting ambassador for the We Are UA campaign.
"Through this campaign, we are joined together to accomplish a unified mission and a unified goal," she said. "That word 'we' is so incredibly important because it alludes to this aspect of teamwork, collaboration and partnership with all of us coming together, both faculty and staff, to hone in and reach goals for the benefit of the University. It's teamwork, it's working together for UA."
And especially over the past year, Lewis has learned the importance of being there for others.
"We have all had to support one another in various ways this year," she said. "The challenges that the pandemic brought only emphasized the strength of collective unity. My hope for the immediate and distant future is that as we progress back into some semblance of normalcy, we will continue to support others."
To learn more about the We Are UA giving campaign and to support a unique giving opportunity of your choice, visit weareua.ua.edu.
Contact
Melissa Parker, UA communications, melissa.parker@ua.edu
The University of Alabama, part of The University of Alabama System, is the state's flagship university. UA shapes a better world through its teaching, research and service. With a global reputation for excellence, UA provides an inclusive, forward-thinking environment and nearly 200 degree programs on a beautiful, student-centered campus. A leader in cutting-edge research, UA advances discovery, creative inquiry and knowledge through more than 30 research centers. As the state's largest higher education institution, UA drives economic growth in Alabama and beyond.