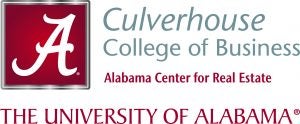 Editor's Note: Members of the media who come to the forum can ask for Cherie Moman with ACRE when arriving. The best times for interviews are the breaks in the agenda scheduled for 9:20 a.m. and 10:20 a.m.
TUSCALOOSA, Alabama – On April 30 a panel of experts, government officials and industry leaders will address key local issues rooted in the real estate sector, with a dedicated discussion of the evolution of Tuscaloosa's overall residential market since the tornado outbreak in April 2011.
The 2021 West Alabama Real Estate Leadership Forum begins at 8:15 a.m. Friday in the Cypress Inn Pavilion in Tuscaloosa. Attendees include government officials and representatives, real estate brokers and industry stakeholders. The forum will have a special focus on workforce housing and industry diversity.
WARE is hosted by the Alabama Center for Real Estate at UA in partnership with the West Alabama Chamber of Commerce and with additional sponsors of The Nine, Bryant Bank, Capitol Park Title, National Association of Real Estate Brokers, C-Spire and ACRE Alabama Cabinet members.
Stuart Norton, a data analyst with ACRE, will present a reflection and outlook of the real estate industry since a devasting outbreak of 107 tornadoes over two separate days in April 2011, including a violent tornado that struck Tuscaloosa County on April 27, 2011. Norton's presentation will also offer insights into the potential for residential growth, as well as benchmark Tuscaloosa against other similar markets.
The forum will feature three sessions including two panel discussions. The agenda includes:
7:30 – 8:15 a.m. – Registration and breakfast
8:15 – 8:30 a.m. – Welcome
8:30 – 9:20 a.m. – Real estate 10-Year reflection and outlook
9:20 – 9:30 a.m. – Break
9:30 – 10:20 a.m. – Workforce housing: West Alabama's greatest short term challenge (panel discussion)
10:20 – 10:30 a.m. – Break
10:30 – 11:20 a.m. – REimagined: diversity in real estate initiative
Dr. James E. King Jr., Associate Dean for Diversity, Equity and Inclusion, Culverhouse College of Business
Cherie Moman, Director of Education, Marketing and Communication, ACRE
Diversity panel discussion
11:20 – 11:30 a.m. – Closing remarks