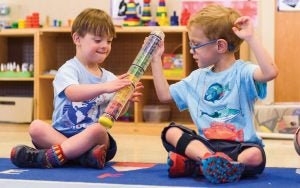 TUSCALOOSA, Ala. – The University of Alabama's RISE Center will hold the RISE Tournament of Champions April 22-23 at NorthRiver Yacht Club and a women's doubles tennis tournament April 22 at the PARA Tuscaloosa Tennis Center, both benefiting therapeutic services provided by RISE.
The RISE Tournament of Champions is a four-person scramble, handicaps required, with morning or afternoon tee times both days. Registration for the golf tournament starts at $2,750 for a four-person team.
Prizes including televisions, paddle boards, Apple watches, Airpods, Amazon Echo Shows, football helmets autographed by UA Head Football Coach Nick Saban and other golf accessories will be awarded to the top four teams with the best gross and net scores. Saban, UA Men's Head Basketball Coach Nate Oats and UA Athletics Director Greg Byrne are scheduled to attend the event.
Golfers will also receive a gift upon check-in, and lunch will be provided. NorthRiver Yacht Club is located at 3100 Yacht Club Way NE in Tuscaloosa.
New to RISE's fundraising efforts is a women's doubles tennis tournament. The cost per team is $150. The PARA Tennis Center is located at 715 21st Avenue E in Tuscaloosa.
Both events will follow recommended COVID-19 protocols.
"With hard work, dedication and creativity, the RISE program has continued to serve children throughout the pandemic both via distance and in person," said Andi Gillen, director of the UA RISE Center. "The services we provide to families are important to ensure our children continue to learn and grow.
"It is also important that our families feel supported and encouraged as they navigate their child's developmental challenges. With all that our families continue to face due to the pandemic our services are more important than ever."
The cost per child to attend RISE five days a week has exceeded $20,000. While RISE receives funding from UA, an endowment and has contracts with local school systems, fundraisers like the golf and tennis tournaments are crucial to the school's success and those efforts were hampered last year due to COVID-19. Fundraising support has been instrumental in the program's longevity and its ability to provide much needed early intervention services to children with special needs in the Tuscaloosa area.
For more information about the tournaments and to register, phone RISE at 205-348-7931 or visit risecenter.ua.edu.