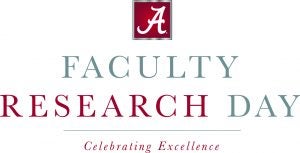 Members of The University of Alabama faculty were honored for their research and creative contributions as part of Faculty Research Day.
Faculty Research Day highlights and celebrates excellence in research, creativity and scholarship by honoring faculty from across campus. It is also intended to increase awareness and generate enthusiasm for scholarship among faculty as the University advances its research enterprise and its impact.
Sponsored by UA's president and the Office for Research and Economic Development, the awards go to outstanding faculty researchers from across the University's colleges and schools.
"Our faculty are drivers of innovation in their fields and serve as guides to our students' success," said Dr. Russell J. Mumper, UA vice president for research and economic development. "We are thrilled to recognize their achievements and express our gratitude for their contributions."
The 2021 Faculty Research Day Awards Ceremony was canceled to meet public health and safety protocol. Virtual poster presentations and scholarly information for the nine faculty members receiving this year's President's Faculty Research Award are available on UA's website, and each will be recognized at the 2022 Faculty Research Day event, along with the winners from the canceled 2020 event.
The recipients come from each of three areas: arts and humanities; physical and biological sciences, mathematics and engineering; and social and behavioral sciences. In each group, nominations are solicited for a senior, mid-career and emerging scholar to be honored.
Faculty Research Day also recognizes recent inductees into the National Academy of Inventors. This year's inductee is Dr. Xiangrong Shen, professor of mechanical engineering.
More about each recipient can be found in the online program.
The 2021 President's Faculty Research Award Recipients
Emerging Scholars
Arts and Humanities
Richard Newton – religious studies
Physical and Biological Sciences, Mathematics and Engineering
Kevin M. Kocot – biological sciences
Social and Behavioral Sciences
Mid-Career Scholars
Arts and Humanities
Lawrence M. Jackson – theatre and dance
Physical and Biological Sciences, Mathematics and Engineering
Paul G. Allison – mechanical engineering
Social and Behavioral Sciences
Nicole Ruggiano – social work
Senior Scholars
Arts and Humanities
Heather Cass White – English
Physical and Biological Sciences, Mathematics and Engineering
Fei Hu – electrical and computer engineering
Social and Behavioral Sciences