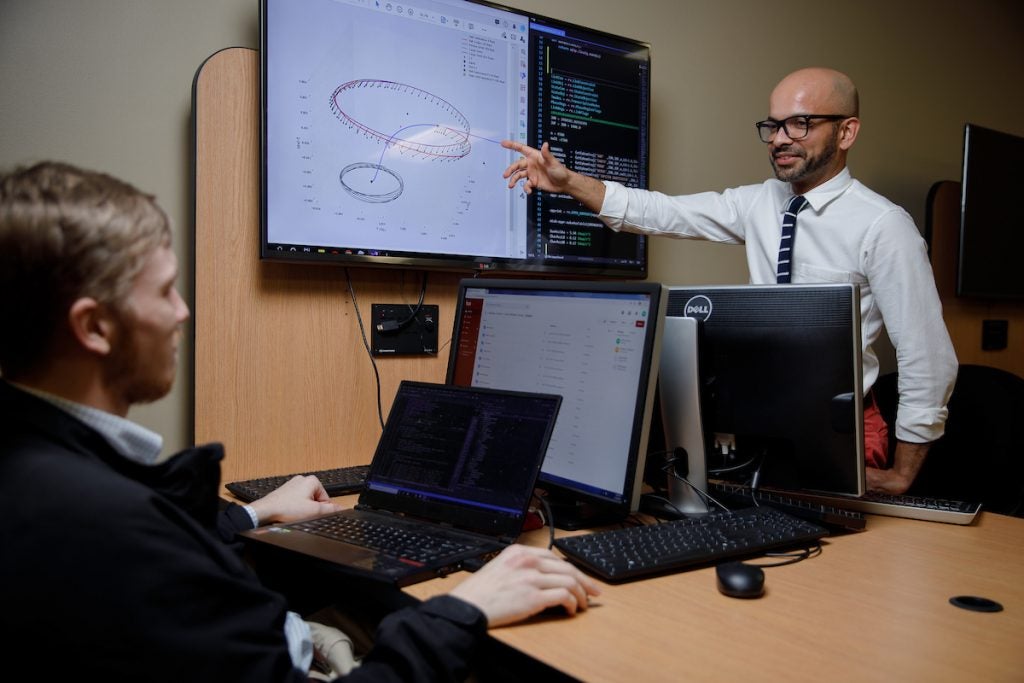 TUSCALOOSA, Ala. – A new high-performance computing center at The University of Alabama will enhance innovation and discovery while enriching student experiences that ready them to meet the challenges of tomorrow.
The University of Alabama System Board of Trustees recently provided Stage 1 approval for construction of the High Performance Computing and Data Center on the eastern edge of campus. It allows the campus to host a large, connected computing system that will be the fastest in the state and on par with peer research institutions.
The facility will enable UA to attract first-rate faculty members who strengthen instruction and co-curricular activities for students and recruit more high-achieving students. The HPC center positions UA for more industrial, government and peer partnerships that enlarge economic development and intensify discovery particularly in the areas of water, transportation, cybersecurity and human well-being.
Most of the funding for the $96 million project comes from a $44.5 million disbursement from the United States Department of Commerce's National Institute of Standards and Technology, and a $46 million supplemental appropriation from the state's Education Trust Fund, as approved by the Alabama Legislature and signed by Gov. Kay Ivey earlier this year.
"We are grateful to Sen. (Katie) Britt and the Alabama Legislature for their support of this project, which is critical to the UA System's longstanding priority of fostering a knowledge-based economy in Tuscaloosa and across the state," said UA System Chancellor Finis St. John IV.
"This funding will greatly enhance UA's ability to make scientific and engineering advances that support critical work in water security, as well as research in a variety of areas of water related science," said UA President Stuart Bell. "Not only will it strengthen collaboration across the UA System and between our students and key players in the growing water industry and other scientific research areas, but it will also develop the technical skills that our students can then apply in valuable careers that will support new industry opportunities in our state."
UA is guiding innovation nationally in hydrological research through multiple water-focused programs on campus led by the Alabama Water Institute and the Cooperative Institute for Research to Operations in Hydrology while also enjoying a close relationship with NOAA's National Water Center and the coming U.S. Geological Survey Hydrologic Instrumentation Facility, both located on campus.
"The hydrological research conducted at The University of Alabama is critical to our country's national security and future," stated Alabama Sen. Katie Britt when announcing federal funding for the center. "This targeted, strategic federal investment will enable researchers across the University of Alabama System to continue to make groundbreaking discoveries and contributions to our state and nation."
The growing field of artificial intelligence and machine learning means high-performance computing is needed for scientific discovery, and the new center will offer UA students an advantage, said Dr. Allen Parrish, interim vice president for research and economic development.
"The High Performance Computing and Data Center touches every discipline on campus and is an opportunity to incorporate technology in the University's entire fabric to engage and prepare students for their careers," he said. "This center will be a driver for developing a highly skilled workforce that will spur economic development for the 21st century in Alabama."
The HPC center's 40,000 square feet will allow for a substantial increase in UA's computing power in a modern facility that also enables UA researchers to compete for and lead federal and private industry grants and contracts. The HPC center will also amplify UA's research enterprise ability to engage in government contracts requiring security compliance and other controlled data processes.
The HPC center will increase the geographic, educational and societal reach of high-powered computing research infrastructure within the state by sharing resources with researchers at other colleges and universities. It also will broaden the diversity of participants using this level of computing power in Alabama by providing opportunities for collaborations among researchers and students.
The HPC center is planned for completion in August 2026.
---
The University of Alabama, part of The University of Alabama System, is the state's flagship university. UA shapes a better world through its teaching, research and service. With a global reputation for excellence, UA provides an inclusive, forward-thinking environment and nearly 200 degree programs on a beautiful, student-centered campus. A leader in cutting-edge research, UA advances discovery, creative inquiry and knowledge through more than 30 research centers. As the state's largest higher education institution, UA drives economic growth in Alabama and beyond.