University Programs is offering several free activities to allow students to relax and have fun on campus this week through Tidecation.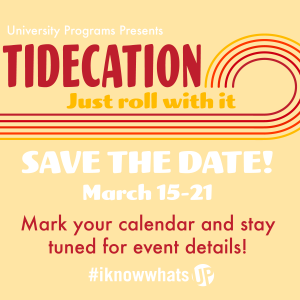 UP, part of UA's Division of Student Life, fosters community and maximizes student development through campus-wide events implemented by UA students.
A list of upcoming Tidecation activities and events is below.
March 17 – Lucky BINGO Night
UP will host a bingo night on Wednesday in the Ferguson Center Theater from 6-8 p.m. No registration is required, but seating is limited and masks are required. Come test your luck and win some prizes! Free snacks will be available.
March 18 – Drive-In Movie Night
Students can enjoy a free drive-in movie experience Thursday night when UP screens "Bad Boys for Life" starring Will Smith and Martin Lawrence at 7:30 p.m. in the perimeter parking lot behind the Capstone College of Nursing. Students can reserve their free spot online.
March 19 – A Night on the Lawn
UP will host A Night on the Lawn Friday from 6-8 p.m. on the Ferguson Center Lawn. The event will have live music from Stop Light Observations, games, food trucks, giveaways and more! Masks are required and social distancing will be enforced.
March 20 – March Madness Watch Party
Watch the Alabama men's basketball team roll Saturday at the March Madness Watch Party at 3 p.m. on the Ferguson Center Lawn. The Crimson Tide will take on Iona College in the opening round of the NCAA Men's Basketball Tournament. Masks are required and social distancing will be enforced.
The University of Alabama, part of The University of Alabama System, is the state's flagship university. UA shapes a better world through its teaching, research and service. With a global reputation for excellence, UA provides an inclusive, forward-thinking environment and nearly 200 degree programs on a beautiful, student-centered campus. A leader in cutting-edge research, UA advances discovery, creative inquiry and knowledge through more than 30 research centers. As the state's largest higher education institution, UA drives economic growth in Alabama and beyond.