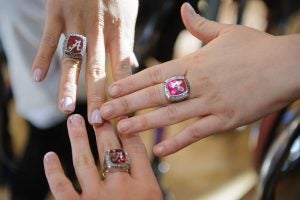 The University of Alabama's University Supply Store will host the 2021 Ring Ceremony during an in-person event on Wednesday, April 7 at the Sellers Auditorium at the Bryant Conference Center.
The Ring Ceremony, a UA tradition held each spring, is a special two-part ceremony that begins at Denny Chimes.
UA students and alumni who order official class rings and choose to participate in the ceremony will first have their rings placed in the 115-foot tall, 92-year-old bell tower for 24 hours. According to tradition, the rings become "infused with the UA spirit" during this time.
On April 5, the UA Army ROTC will place a large mahogany box filled with class rings inside Denny Chimes, where the rings will remain, guarded by the UA Police Department, until 6:31 p.m. on Tuesday, April 6. The time is significant because it translates to 18:31 in military time; 1831 is the year of The University's founding.
Then, the rings will be retrieved from Denny Chimes and transported to the conference center for the second part of the Ring Ceremony, the presentation of the rings at Sellers Auditorium on April 7.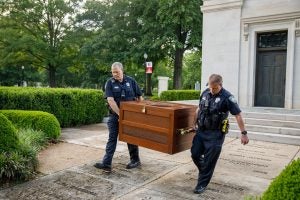 There will be three ring presentation ceremonies, divided alphabetically by last name: 10:30 a.m. (A-F), 3:30 p.m. (G-M) and 6:30 p.m. (N-Z).
Dr. Myron Pope, vice president for student life, will announce the ring recipients during the ceremonies. UA President Dr. Stuart Bell will be present to recognize each individual student receiving a ring.
Students are encouraged to dress in business attire and to arrive 45 minutes before their ceremony begins to get checked in.
Each student may invite two guests to attend the ceremony. Parking will be available at the Capstone Parking Deck.
For more information or questions, contact David Cowdery at 205-348-6124.
Contact
Melissa Parker, UA communications, melissa.parker@ua.edu
The University of Alabama, part of The University of Alabama System, is the state's flagship university. UA shapes a better world through its teaching, research and service. With a global reputation for excellence, UA provides an inclusive, forward-thinking environment and nearly 200 degree programs on a beautiful, student-centered campus. A leader in cutting-edge research, UA advances discovery, creative inquiry and knowledge through more than 30 research centers. As the state's largest higher education institution, UA drives economic growth in Alabama and beyond.