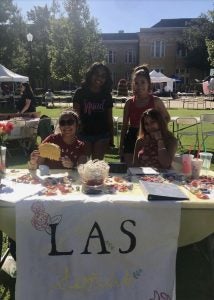 Women have been making their mark at the University of Alabama for more than a century, and evidence of their success can be found throughout the University, state, nation and beyond.
One of the key factors for success is having a good support system. Fortunately, a number of women-centered student organizations are available at UA to support women during their college journeys.
"Women-centered groups are important for our campus because they serve individual students and the larger campus community," said Mollie Tinney, assistant director of organization engagement with UA's Office of Student Involvement. "These groups provide a network of support for women-identified students based on their shared experiences and interests. They also serve campus through their leadership and innovative initiatives, highlighting the immeasurable contributions of UA women to the Capstone."
There are more than 50 women-centered organizations on campus, covering a wide variety of interests.
One organization is the Society of Women in Economics, which aims to foster networking between female students majoring or interested in economics, as well as to expose members to potential career opportunities they might not otherwise learn about.
"I started SWE because I wanted to create a space where we could build camaraderie between fellow women in economics," said Taylor Hobbs, a senior economics major from Venice, Florida, who serves as the president of the organization. "I hope this organization shapes students at UA in such a way that prepares them to be confident professionals after graduation and encourages them to mentor those around them."
Las Doñas, another women-focused organization on campus, began in 2019 after a group of women wanted to unite and open opportunities for the Latinx community at UA.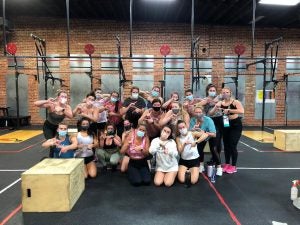 "Our group creates a safe space where women can prioritize their studies, give back to the community, create networking opportunities, have fun and make long-lasting friendships," said Grace Savino, a senior criminal justice major who serves as president of the group. The Blandon, Pennsylvania, native said they host fundraisers, community service events, forums, bonding events, study hours and giveaways throughout the semester.
CHAARG, which stands for Changing Health, Attitudes and Actions to Recreate Girls, is another organization on campus that focuses on health and fitness and aims to ignite a passion for movement in college women, with the tagline, "liberating women from the elliptical since 2012."
"We saw a need for an all-women organization here at UA, other than a sorority, that focused on health," said Portland, Oregon, native Ali Gormley, a senior majoring in management and entrepreneurship who serves as the group's ambassador. "We create a community of like-minded women that you can count on. Through this community, you're able to be yourself and embrace your fitness level and body. With CHAARG supporting you, things become less scary. We break down barriers and help women find their fit and themselves."
Whatever a woman's area of interest, there is likely an organization where she can find a network of support. Here's a list of other organizations available to women this semester:
For more information about being involved on campus, visit the Office of Student Involvement website.