Story updated March 17 at 7:41 a.m.
March 17, 9:59 a.m. update: UA Suspends Normal Operations at 11 a.m. Due to Severe Weather Risk
The National Weather Service is predicting a high risk (level 5 out of 5) of tornadoes, damaging winds and hail for the city of Tuscaloosa from Wednesday afternoon until early Thursday.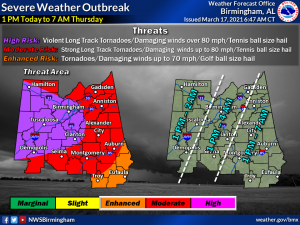 Prepare for severe weather
Know the difference between a tornado watch and a warning. Tornado watches are issued by the Storm Prediction Center for counties where tornadoes may occur. A watch means conditions are favorable for tornadoes to form in and near the watch area. When a watch is issued, you should review your emergency plans, check your supplies and be ready to move to a safe place.
Tornado warnings are issued by local National Weather Service offices when a tornado has been sighted or is indicated on weather radar. Warnings cover much smaller areas than watches and are drawn as polygons on the map. When a warning is issued there is imminent danger to life and property, and you should immediately take action.
Before storms arrive, familiarize yourself with UA's severe weather guidelines and make sure you can locate yourself on a map of Alabama.
Have multiple ways of receiving weather watches and warnings. This could include a NOAA weather radio, local television and radio stations, and weather apps for your mobile phone.
The UA Safety app, which is available for iOS and Android devices, will notify you of weather watches and warnings for Tuscaloosa County.
UA will issue UA Alerts for all tornado watches and warnings. Information about severe weather affecting Tuscaloosa can be found in the UA Safety app, on Twitter by following @UA_Safety and by listening to 92.5 FM UA Info Radio.
Know where to shelter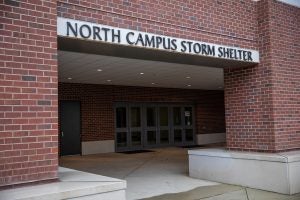 Should a tornado watch be issued, the North Campus Storm Shelter,  John H. England Jr. Hall Storm Shelter, North Lawn Hall, basement of the North Engineering Research Center and Magnolia Parking Deck Best Available Refuge Area, or BARA, will be available for all students, faculty and staff until the watch expires.
Masks are required in University shelters, and everyone is asked to practice social distancing as possible.
For your safety and the safety of others, please follow the guidance of University officials while in the shelter.
Students and employees who have tested positive for COVID-19 and are in isolation, or those who have been told to quarantine for possible exposure to the virus, are asked to shelter only at the Capstone Parking Deck BARA. To avoid spreading the virus, those who choose to shelter at the Capstone Parking Deck BARA should consider parking inside the deck and remaining in their cars until a tornado warning is issued.
Students and employees are asked not to shelter at the East Campus Storm Shelter at this time, as it is being reserved for residents of Capstone Village who may be more vulnerable to the virus.
The Magnolia Parking Deck Best Available Refuge Area can accept pets with their owners.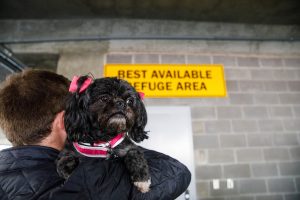 The explore feature in the UA Safety App can help you locate the nearest storm shelter or BARA.
If a tornado warning is issued, you should avoid traveling and seek shelter immediately. Classes and events are immediately suspended.
If you are not able to make it to a storm shelter, seek shelter in the closest Best Available Refuge Area location. The BARA location can also be found on the Building Emergency Plan posted near entry/exit locations of each building and within the UA Safety app.
If you are not on campus when a warning is issued, seek shelter on the lowest floor in the center of the building and stay away from windows. Do not seek shelter in a vehicle or a mobile home. If you live in an apartment building, seek shelter on the lowest level. Do not remain in apartments on upper floors.
For more information on what to do during a severe weather event, visit the Office of Emergency Management's website and listen to 92.5 FM UA Info Radio.
After a storm
University police and staff will quickly respond to any storm damage that may occur on campus. Report any damage that you find to UAPD at 205-348-5454 or by sending a tweet to @UA_Safety.
If you live off campus and experience damage, stay clear of fallen power lines. Do not enter damaged buildings until you are told they are safe by emergency officials. Call 911 if you have an emergency.
Reach out to family members or friends either by text, phone call or through social media to let them know you are safe.
Contact
Shane Dorrill, UA communications, shane.dorrill@ua.edu
The University of Alabama, part of The University of Alabama System, is the state's flagship university. UA shapes a better world through its teaching, research and service. With a global reputation for excellence, UA provides an inclusive, forward-thinking environment and nearly 200 degree programs on a beautiful, student-centered campus. A leader in cutting-edge research, UA advances discovery, creative inquiry and knowledge through more than 30 research centers. As the state's largest higher education institution, UA drives economic growth in Alabama and beyond.