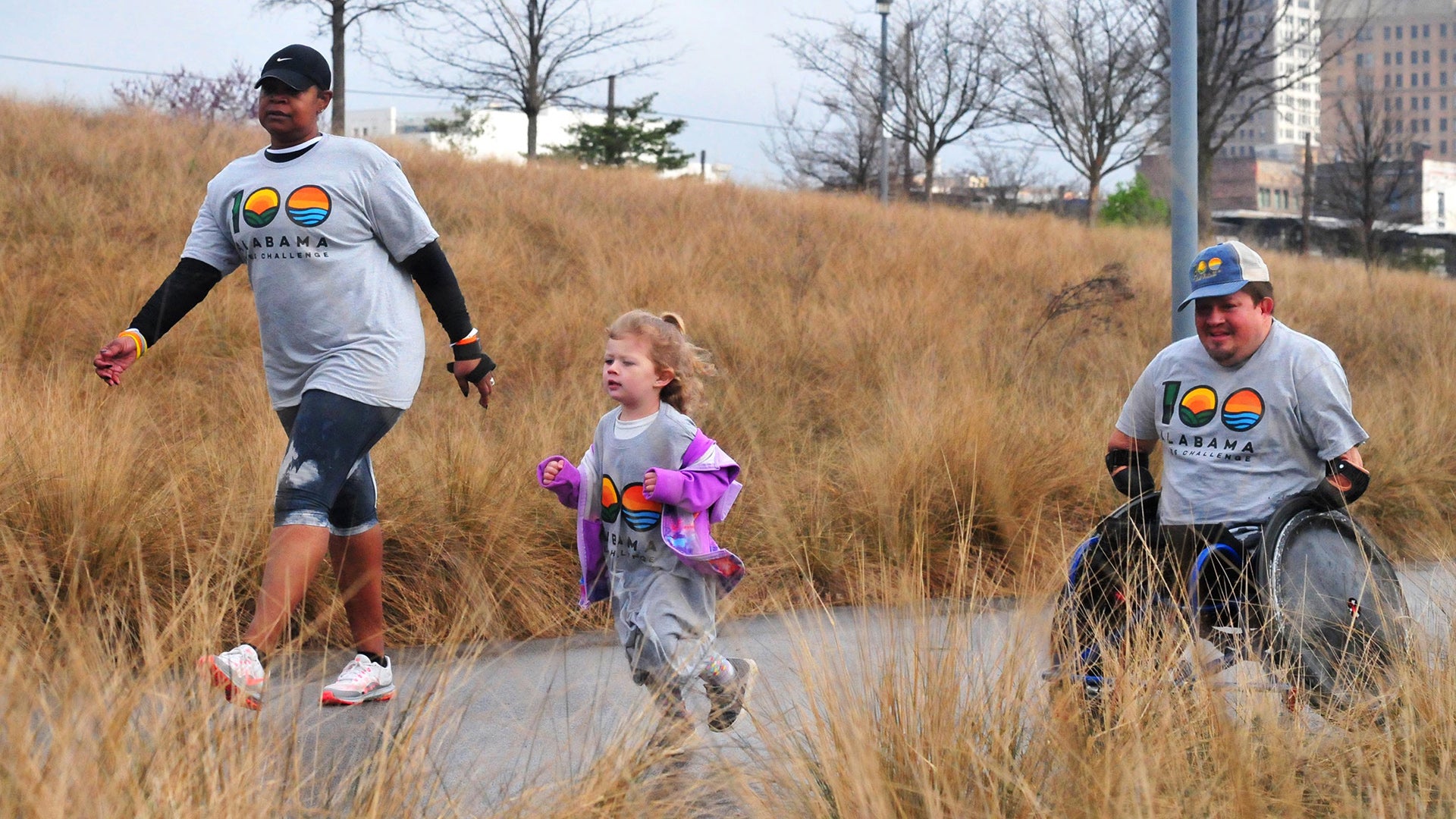 TUSCALOOSA, Ala. – The University of Alabama Center for Economic Development and its partners will kick off the 2021 season of the 100 Alabama Miles Challenge on April 24.
The 100 Alabama Miles Challenge is a statewide public program designed to inspire all Alabamians to be active, explore, and connect with others by getting 100 miles of physical activity each year. While participants can walk, run, hike, bike, swim, paddle, ride, or roll to their 100-mile goal anywhere, the program encourages residents to visit Alabama state parks, nature preserves and rivers with friends and family.
The kickoff coincides with the Rails-to-Trails Conservancy's Celebrate Trails Day, an annual spring celebration of the nation's trails and trail systems.
"Partnering with Celebrate Trails Day is a natural fit for the 100 Alabama Miles Challenge because both programs seek to heighten public awareness and use of our trail resources," said Brian Rushing, coordinator for the 100 Alabama Miles Challenge and director of economic development initiatives at UA. "Whether it's in our state parks, national forests, local parks and greenways, or our beautiful blueways, anyone looking for a trail can find one to suit their needs and interests at 100alabamamiles.org."
Participants have logged a total of more than 146,000 miles since the program's inception in 2018.
While the pandemic prevents the usual gatherings to celebrate the annual season kickoff, organizers encourage people to register at 100alabamamiles.org, visit a trail on their own and share their experiences via social media using the hashtag #100ALMiles. As participants log their miles on the website, they earn electronic badges for milestones they reach and places they visit. They can even create teams and compete with others.
Organizers encourage participants to also register for Celebrate Trails Day at www.railstotrails.org/experience-trails/celebrate-trails/, where the first 150 to RSVP will earn great prizes from program sponsors.
Partners in developing and sustaining the program include the Alabama Trails Commission, Alabama Trails Foundation, Blue Cross and Blue Shield of Alabama, Lakeshore Foundation, Governor's Commission on Physical Fitness and Sports, Jefferson County Department of Health, AARP, Alabama Department of Public Health and the Alabama Obesity Task Force.
The University of Alabama Center for Economic Development was founded in 1987. It serves as a gateway to technical assistance resources at the University. Through the utilization of professional staff and customized project teams, UACED assists communities, agencies and organizations to take an asset-based planning approach to economic development opportunities. One of UACED's goals is to address the economic development needs of rural and urban communities throughout Alabama.