UA students will have a fun opportunity to make a difference in the lives of children being cared for at the Children's Miracle Network Hospital in Birmingham through UADM's annual BAMAthon Feb. 27 from 10 a.m. to 10 p.m.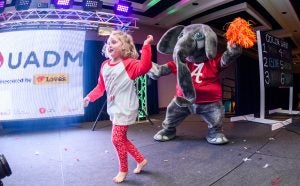 Lily Prater, UADM vice president of communications, recently discussed the upcoming event and has a few tips for those participating in this year's BAMAthon.
What can participants expect from this year's virtual BAMAthon?
Virtual BAMAthon will be available for participants to view through YouTube Live, and occasionally on Facebook Live. BAMAthon is from 10 a.m. to 10 p.m., in honor of our 10th anniversary.
The live stream will begin at 9 a.m., so tune in while you're getting ready — we will provide the playlist. Participants will be equipped with a virtual tool kit with all the resources they may need to enjoy the event and maximize their personal fundraising efforts. Each two-hour block of the event has its own theme and unique fundraising challenge.
What are some elements from previous events that students can expect this year?
Participants can still enjoy the annual traditions that make BAMAthon special, such as our Miracle Kid Talent Show and iconic Morale Line Dance! The event will also still be full of Miracle Kid performances, special guest appearances and fundraising challenges.
Finally, the event will close out with the much-loved Rave Hour, Circle of Hope and Final Total Reveal. Themed hours have always been one of our favorite parts of the day. Our themes this year include Hero, Decades, Bachelor, 4th Quarter and Rave.
Aside from being virtual, what are some new aspects to this year's BAMAthon?
For the first time ever, UADM will be delivering merchandise to our participants across the UA campus and Tuscaloosa community, which are available on our website the day of the event.
Additionally, we are collaborating with organizations on campus to host socially-distanced BAMAthon viewings. This will allow our registered teams to safely enjoy the event together and help each other fundraise throughout the day.
Lastly, rather than serving food as we usually do, we have partnered with Heat Pizza Bar (lunch hours) and Chipotle (dinner hours) to host percentage events during our meal break times, so participants can take a break from the screen, get a meal and continue to support our cause.
What tips and advice would you give to those who are participating in their first BAMAthon?
The best advice we can give to participants is to dive into the event and be excited to participate! You will get out of the event as much as you put into it, which is especially the case this year.
Further, be sure to get plenty of rest the night before and have snacks, water and a computer charger readily available, because we know it is a very long day!
Given the challenges of the COVID-19 pandemic, why was it important for UADM to continue with BAMAthon 2021?
Now more than ever, donated funds are essential for the success of healthcare organizations, and children's healthcare has been greatly impacted by the COVID-19 pandemic.
It was important for UADM to continue working to put on BAMAthon in 2021 because Children's of Alabama has continued to serve patients and the frontline workers that have continued to put themselves at risk for the benefit of others, and they continue to need our support. Children's Miracle Network has embraced the saying, "Kids Can't Wait," for this year.
Contact
Bryant Welbourne, UA Strategic Communications, bryant.welbourne@ua.edu
The University of Alabama, part of The University of Alabama System, is the state's flagship university. UA shapes a better world through its teaching, research and service. With a global reputation for excellence, UA provides an inclusive, forward-thinking environment and nearly 200 degree programs on a beautiful, student-centered campus. A leader in cutting-edge research, UA advances discovery, creative inquiry and knowledge through more than 30 research centers. As the state's largest higher education institution, UA drives economic growth in Alabama and beyond.