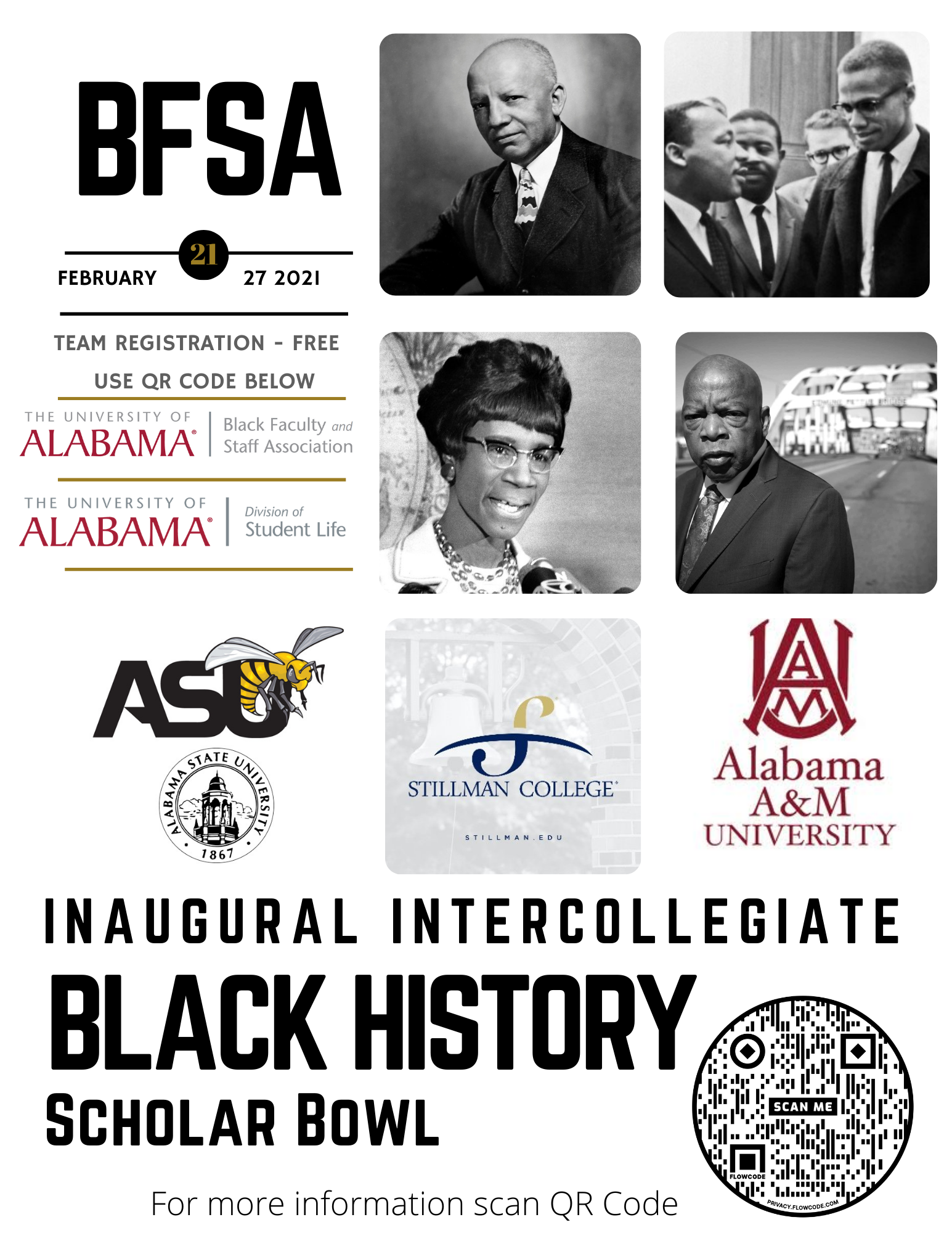 TUSCALOOSA, Ala. – Teams of undergraduate students from colleges and universities across the state will gather at The University of Alabama's Bryant Conference Center on Feb. 27 to put their Black History Month knowledge to the test in the inaugural Dr. Trudier Harris Intercollegiate Black History Scholar Bowl.
The bowl, which is hosted by UA's Black Faculty and Staff Association, or BFSA, in partnership with UA's Division of Student Life, starts at 11 a.m.
Student teams from UA, Stillman College, Alabama State University and Alabama A&M will compete against each other for a monetary grand prize and a traveling trophy.
The teams will compete in person, but due to the coronavirus pandemic, those who want to watch the scholar bowl must do so virtually through a live stream on the UABFSA Facebook page.
BFSA President Chad Jackson said the purpose of the competition, which is named in honor of distinguished literary scholar and UA professor Dr. Trudier Harris, is to increase awareness of Black contributions to American culture and to strengthen relations between institutes of higher education in Alabama.
"One of the reasons why it is important that this becomes an annual event is that African Americans are always contributing to American culture," Jackson said. "We still have the line of 'the first Black this' or 'the first Black that.' As long as that is a surviving prefix, there will always be a need to make sure we keep those successes ever before us."
More information on the scholar bowl will be presented in a Zoom press conference on Feb. 9 at 1 p.m.
To learn more, contact the BFSA at blackfsa@ua.edu.
Editor's Note: This article was updated on Feb. 17. The story originally referred to Dr. Trudier Harris as a literary historian. Dr. Harris is a literary scholar. 
Source
UA's Black Faculty and Staff Association, blackfsa@ua.edu
Contact
Jamon Smith, strategic communications, jamon.smith@ua.edu
The University of Alabama, part of The University of Alabama System, is the state's flagship university. UA shapes a better world through its teaching, research and service. With a global reputation for excellence, UA provides an inclusive, forward-thinking environment and nearly 200 degree programs on a beautiful, student-centered campus. A leader in cutting-edge research, UA advances discovery, creative inquiry and knowledge through more than 30 research centers. As the state's largest higher education institution, UA drives economic growth in Alabama and beyond.