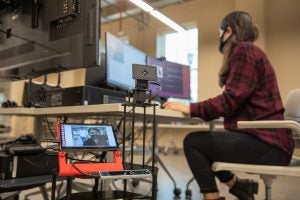 Engineering and communication researchers at The University of Alabama are building the next generation of law enforcement robotic technology, working towards affordable robots that can interact directly with civilians in hazardous situations.
Supported by a grant from the National Science Foundation, the project partners with several state law enforcement agencies, including the Tuscaloosa Police Department, who are providing feedback to help the researchers build a prototype robot that will meet officers' needs while enhancing safety and effectiveness in potentially dangerous situations.
"We are hoping that our human interactive robots will make a safe environment by distancing civilians and officers from dangerous situations," said Dr. Nader Jalili, principal investigator and lead on the project as well as professor and head of the department of mechanical engineering.
Unlike faceless robots used to investigate explosive devices or explore areas with potential chemical hazards, UA faculty and student researchers are designing their robot to communicate with people through cameras, video displays, speakers, microphones and other sensors. The robot would be a bridge between the officer, communicating through its interface remotely, and a civilian, a suspect or even other officers involved in a potentially dangerous situation.
"The majority of law enforcement robots are utilized for tactical purposes," said Dr. Darrin Griffin, project researcher and associate professor of communication studies, who is leading the communication team of the research. "Our team saw a niche in an area that needed improvement, which was to utilize communication either between two law enforcement officers or between a law enforcement officer and a citizen, so our project is aimed at utilizing robotics as a medium of communication to improve situations where human-to-human contact could be dangerous or is not achievable."
"If we can develop an inexpensive robot compared to current technology, then police departments can use them much more often…Eventually, every patrol car could carry a robot for officers to use."
Along with TPD, the UA team has partnered with other agencies such as the Center for Best Practices in Law Enforcement at Jacksonville State University and the Alabama Peace Officers Standards and Training Commission Law Enforcement Academy-Tuscaloosa.
Researchers are using feedback to understand the risks, challenges, and requirements of highly-immersive, social, human-robot systems and partnerships in future police work. After this initial phase, the project team can use potentially more NSF funding to take a concept robot to a prototype robot ready for testing.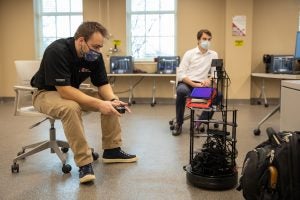 "Communication is the foundation of what we do," said Lt. Lachlan Chronister of TPD. "People think of 'protect and serve,' and they think we are out there to put people in jail, but it's all about communication. It's how do we talk to people and how do we improve the ways we talk to people."
Robots used currently in law enforcement activities can potentially cost hundreds of thousands of dollars, limiting their use to specialized situations. UA's research team aims to design a robot that can cost a couple of thousand dollars, said Dr. Christian Cousin, assistant professor of mechanical engineering who leads the robotics team of the project.
"If we can develop an inexpensive robot compared to current technology, then police departments can use them much more often," Cousin said. "Eventually, every patrol car could carry a robot for officers to use."
The current robots that faculty and student researchers use for the project are built from off-the-shelf components and are designed to understand not just the engineering aspects, but also how they can best communicate with people, he said.
The research team hopes the current grant is a springboard for future research and collaboration with law enforcement and stresses a real-world robot is years away.
"We are five to 10 years ahead of our time in developing these things and trying to understand the goals of law enforcement and how we can better achieve those goals," Griffin said. "We are in the preliminary, foundational stages. We hope in several years this could be something that would be more achievable."