Don't let the fear of missing out concern you. You can be notified immediately during severe weather or any emergency situation on campus if your contact information in myBama is up to date.
The University of Alabama uses UA Alerts and other methods to notify students, faculty and staff in the event of an emergency. If you haven't been receiving UA Alerts calls or text messages, you may need to update your contact information in myBama.
When should I update my contact information?
Any time your personal information changes you should update it in myBama.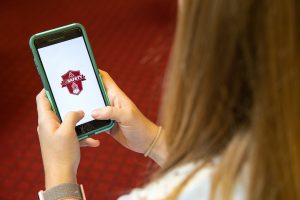 How do I update my information?
Is my information private?
Yes. Your contact information will only be used by the University for emergency notifications and official business use.
Still have questions?
Visit the UA Alerts page. You can also receive information about emergency situations on campus by downloading the UA Safety App for IOS and Android devices.
So, when is the next test of the UA Alert system?
Weather permitting, the University will test its emergency notification systems, including UA Alerts, the public address system and digital signage Wednesday, Feb. 3, at 11:55 a.m.
The University of Alabama, part of The University of Alabama System, is the state's flagship university. UA shapes a better world through its teaching, research and service. With a global reputation for excellence, UA provides an inclusive, forward-thinking environment and nearly 200 degree programs on a beautiful, student-centered campus. A leader in cutting-edge research, UA advances discovery, creative inquiry and knowledge through more than 30 research centers. As the state's largest higher education institution, UA drives economic growth in Alabama and beyond.