Alabama is no stranger to severe weather. In fact, it can happen any month of the year and any time, day or night. To help you prepare, The University of Alabama is offering information on severe weather and safety tips during Severe Weather Awareness Week, Feb. 22 – 26.
The National Weather Service defines severe thunderstorms as those that are capable of producing hail that is an inch in diameter or larger and wind gusts of more than 58 mph.
Hail that is one inch in diameter is about the size of a quarter and can damage roofs, vehicles and crops. Winds greater than 58 mph can knock over small trees, or break branches off larger ones.
All thunderstorms are capable of producing dangerous lightning and tornadoes even if they don't meet the criteria to be considered severe.
Know the difference between a watch and a warning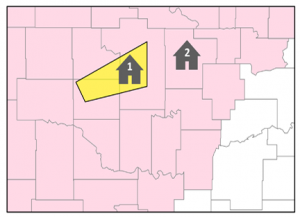 Just as it does for tornadoes, the National Weather Service issues watches and warnings for severe thunderstorms.
A severe thunderstorm watch means conditions are favorable for severe thunderstorms to form in and near the watch area. This area is typically large and covers numerous counties. During a watch, you should stay informed and be prepared to act.
A severe thunderstorm warning means severe weather has been reported by trained storm spotters or indicated on radar. Warnings usually only cover a small area and are drawn on a map as a polygon. A warning means there is imminent danger and you should seek shelter inside a sturdy building until the storm has passed.
The UA Safety app, available for iOS and Android devices, is a great way to receive severe weather information. You can turn on notifications to warn you when the weather service issues a severe thunderstorm watch or warning for Tuscaloosa County.
More severe weather safety information is available on the Office of Emergency Management's website and by listening to 92.5 FM UA Info Radio.
Learn more about severe thunderstorm safety
Contact
Shane Dorrill, UA communications, shane.dorrill@ua.edu
The University of Alabama, the state's oldest and largest public institution of higher education, is a student-centered research university that draws the best and brightest to an academic community committed to providing a premier undergraduate and graduate education. UA is dedicated to achieving excellence in scholarship, collaboration and intellectual engagement; providing public outreach and service to the state of Alabama and the nation; and nurturing a campus environment that fosters collegiality, respect and inclusivity.