Extensive renovations have breathed new life into the Math and Science Education Building, formerly known as the Biology Building, and the adjacent auditorium while bringing several departments under one roof for the benefit of both students and faculty.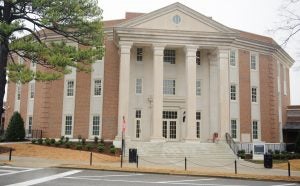 A complete interior demolition paved the way for the building to be redesigned with more contemporary, open and collaborative learning spaces and also brought with it replacement of the mechanical, life safety and security systems; new elevators; new classroom audiovisual technology; and new finishes and furnishings throughout the building.
While the majority of the work concentrated on the interior, significant exterior renovations were also made, including new roofing, and replacement of all windows and entry doors. The project also called for new entry canopies, sidewalks and a pedestrian plaza, as well as the installation of limestone cladding to help make the building's appearance more consistent with campus architecture.
The renovations addressed space challenges experienced by the departments of physics and astronomy, geography, geology and New College. The Math and Sciences Education Building allowed these areas to consolidate to the first and second floors instead of being spread across campus. The departments now have modern labs and classrooms that provide top-notch learning experiences.
The third and fourth floors are now home to the Mathematics Technology Learning Center that once occupied Tutwiler Hall. The move allows the MTLC to not only continue with its traditional operations but also support additional courses and tutoring.
The project also included improvements to the overall design of the building, including wider corridors, new lobbies and student waiting spaces to help traffic flow, stair modifications, a new building entrance and the addition of a second accessible entry point.
Contact
Bryant Welbourne, UA Strategic Communications, bryant.welbourne@ua.edu
The University of Alabama, part of The University of Alabama System, is the state's flagship university. UA shapes a better world through its teaching, research and service. With a global reputation for excellence, UA provides an inclusive, forward-thinking environment and nearly 200 degree programs on a beautiful, student-centered campus. A leader in cutting-edge research, UA advances discovery, creative inquiry and knowledge through more than 30 research centers. As the state's largest higher education institution, UA drives economic growth in Alabama and beyond.