The University of Alabama campus is constantly evolving through construction and renovation projects to enhance the learning, teaching, living and research experience for students, faculty and staff. Here's a recap of several recently completed and in-progress projects.
2nd Avenue Overpass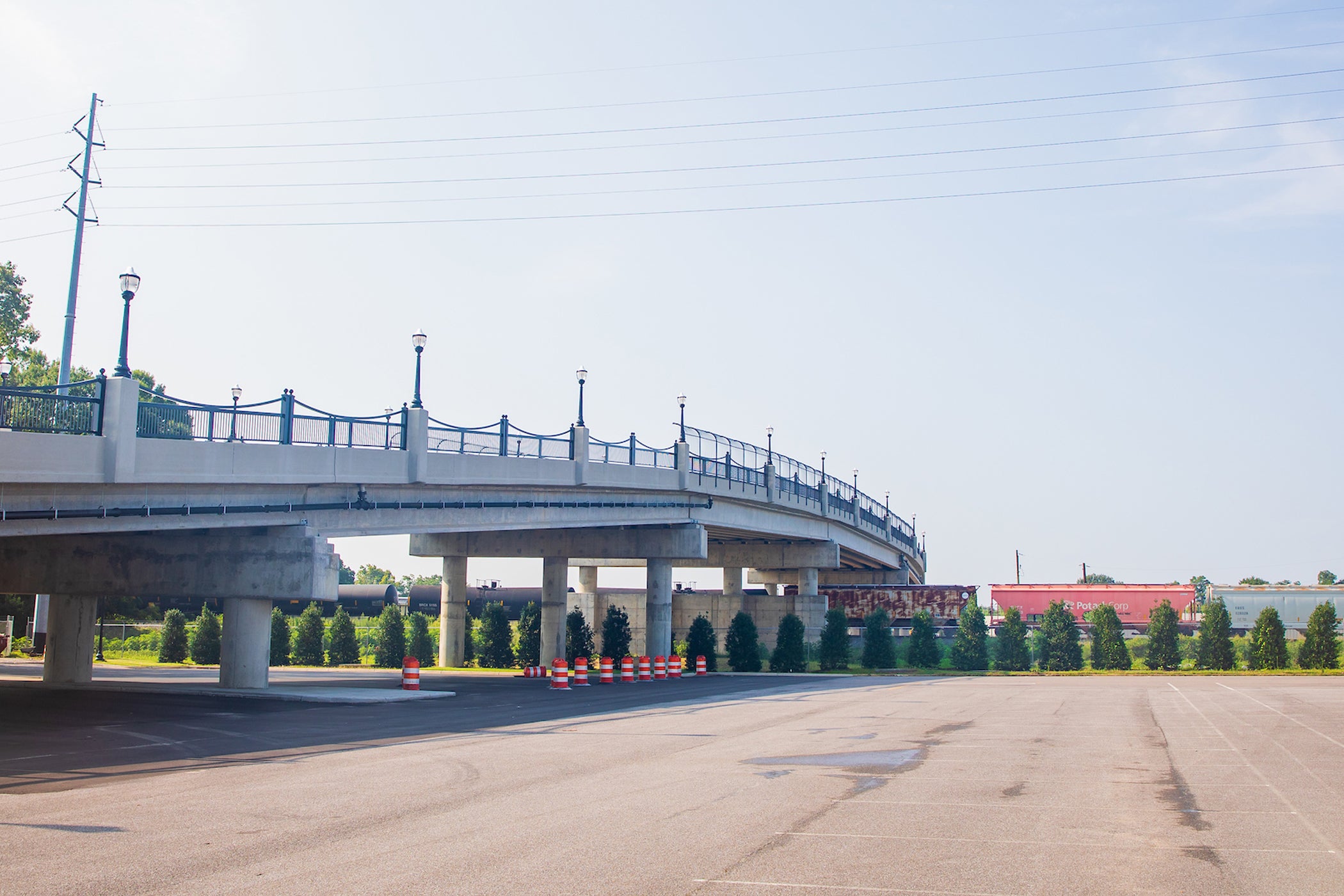 The 2nd Avenue Overpass opened on Aug. 4.
The highly anticipated 2nd Avenue Overpass connecting 15th Street to Paul W. Bryant Drive near the east side of Coleman Coliseum opened Aug. 4. The new overpass serves as a centrally located campus corridor that won't be hampered by the train tracks. It also provides a dramatic view of campus from the top of the bridge.
Aside from providing a new option for the more than 70,000 vehicles that cross the train tracks running along the south edge of campus every day and helping with traffic flow, the new three-lane overpass is especially helpful for emergency response and access to DCH Regional Medical Center.
The overpass features a 10-foot-wide bike/walking path with a concrete protective barrier and plenty of lighting.
Hewson Hall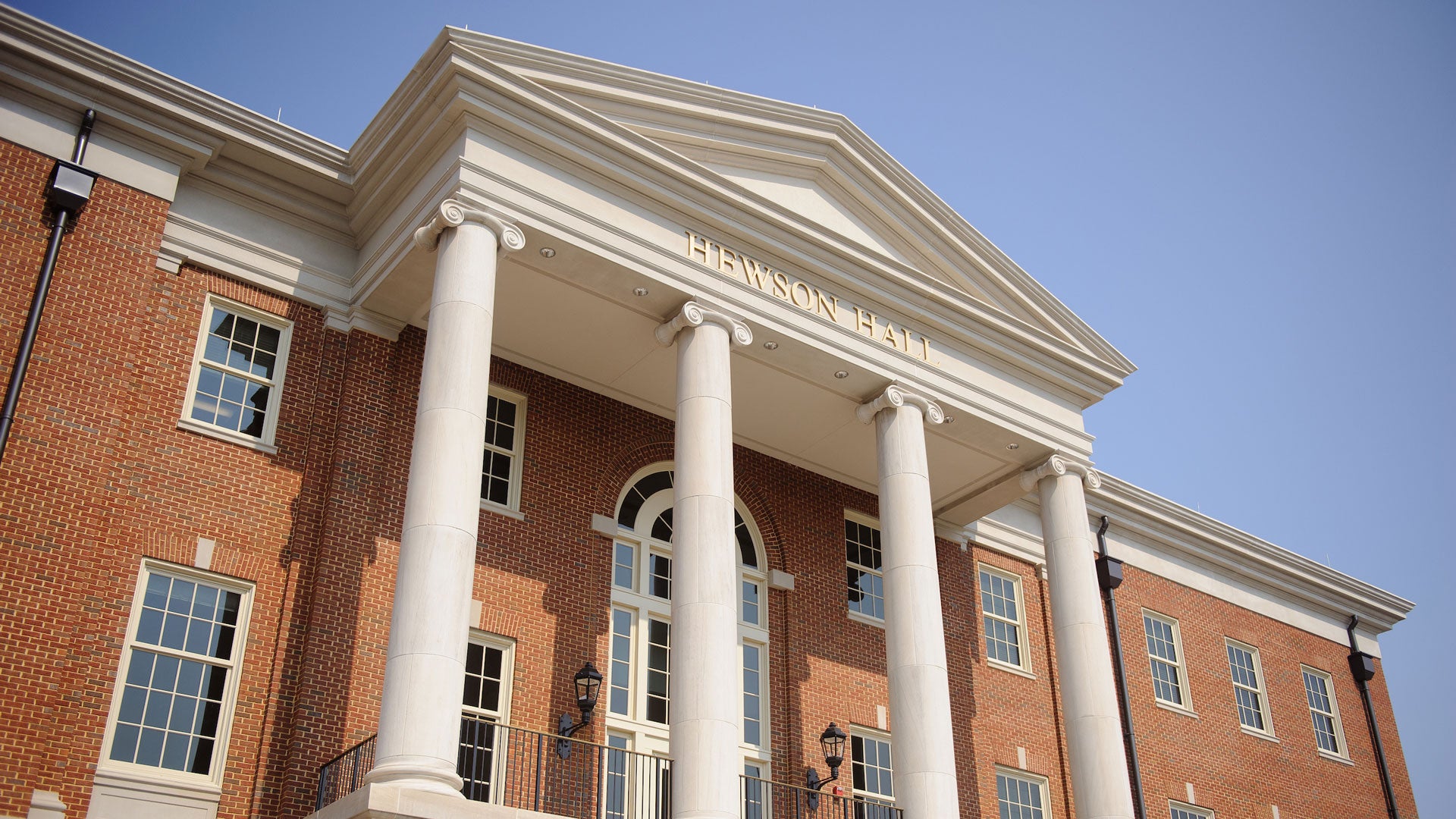 Hewson Hall is the Capstone's newest academic building. 
Hewson Hall opened just in time for the start of fall semester. The new academic building serving the Culverhouse College of Business is centered around a three-story atrium — a light-filled, dynamic space designed to connect faculty, staff and students.
The facility includes 22 classrooms, team collaboration rooms, a student success center, conference rooms, a FEMA-rated storm shelter and other amenities.
Tuska Plaza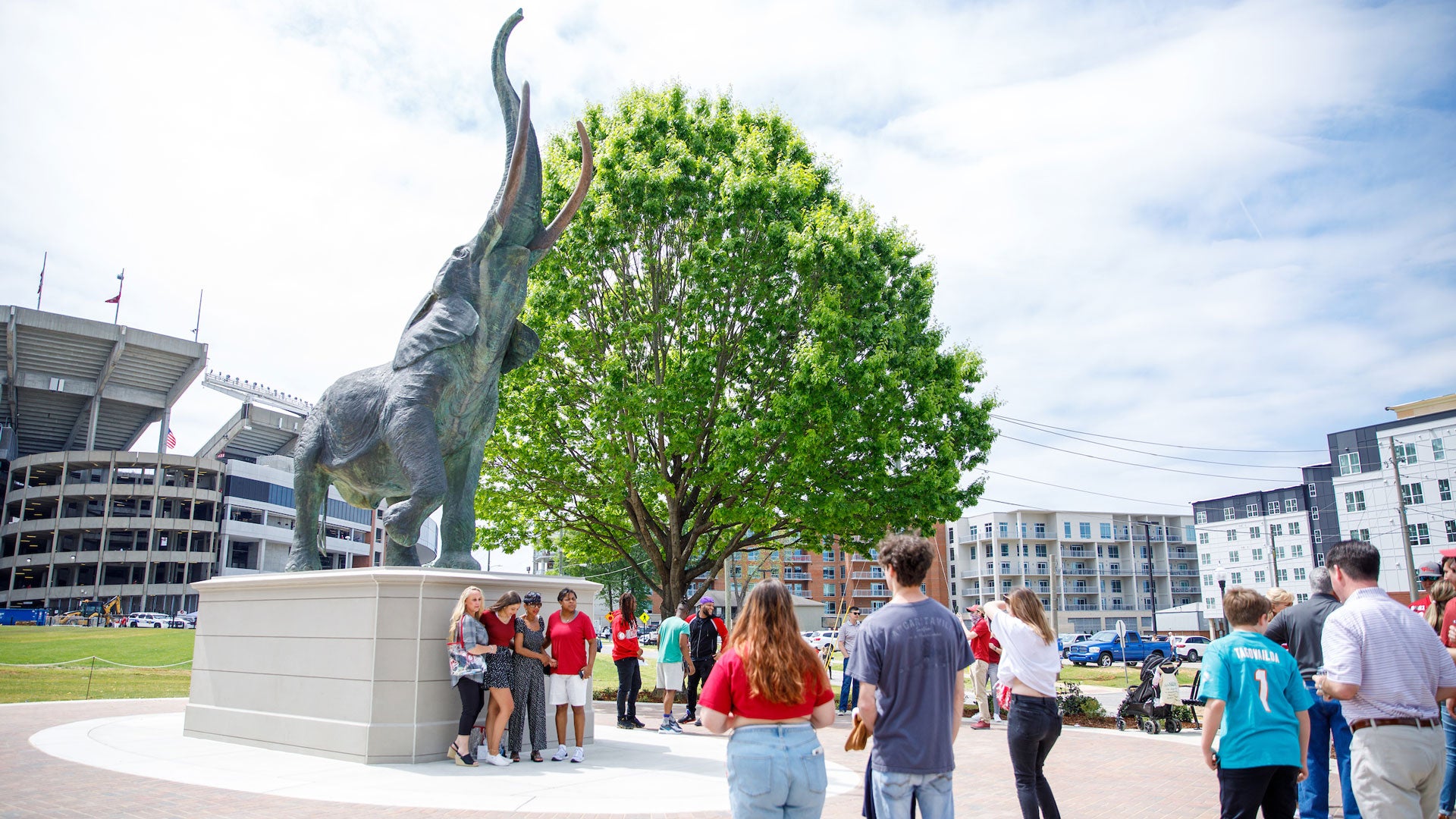 Tuska Plaza debuted just in time for A Day 2021 in April.
Tuska, a 19-foot-tall, seven-ton bronze elephant statue, was given to the University by The Westervelt Company and placed at the corner of University Boulevard and Wallace Wade Avenue in April. A generous gift from Bill and Mary Battle made the move possible.
The Tuska Plaza project included new landscaping, a large pedestal for Tuska to stand on, sidewalks surrounding the statue and lighting elements for nighttime viewing. Cameras were also installed to ensure Tuska's safety at all times.
Capstone College of Nursing Addition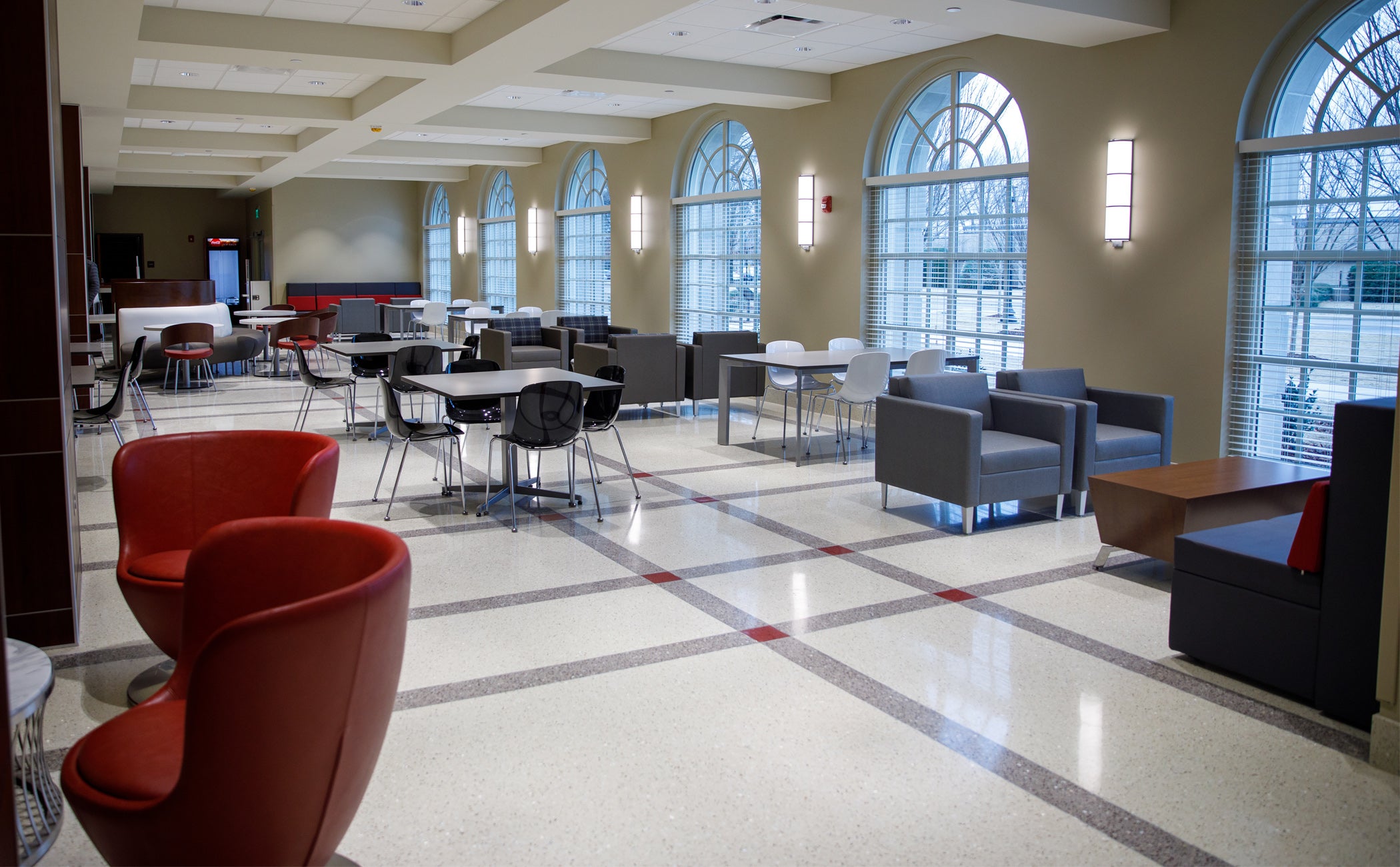 The Capstone College of Nursing expansion added additional study and lounge space for students.
The Capstone College of Nursing opened a new wing in January that expands student learning and collaboration space and equips faculty with the square footage needed to conduct research, prepare lectures and meet one-on-one with students.
In addition to the new learning spaces, the expansion includes other amenities exciting to students, such as food service, an outdoor terrace and meditation labyrinth, as well as additional study space.
Math and Science Building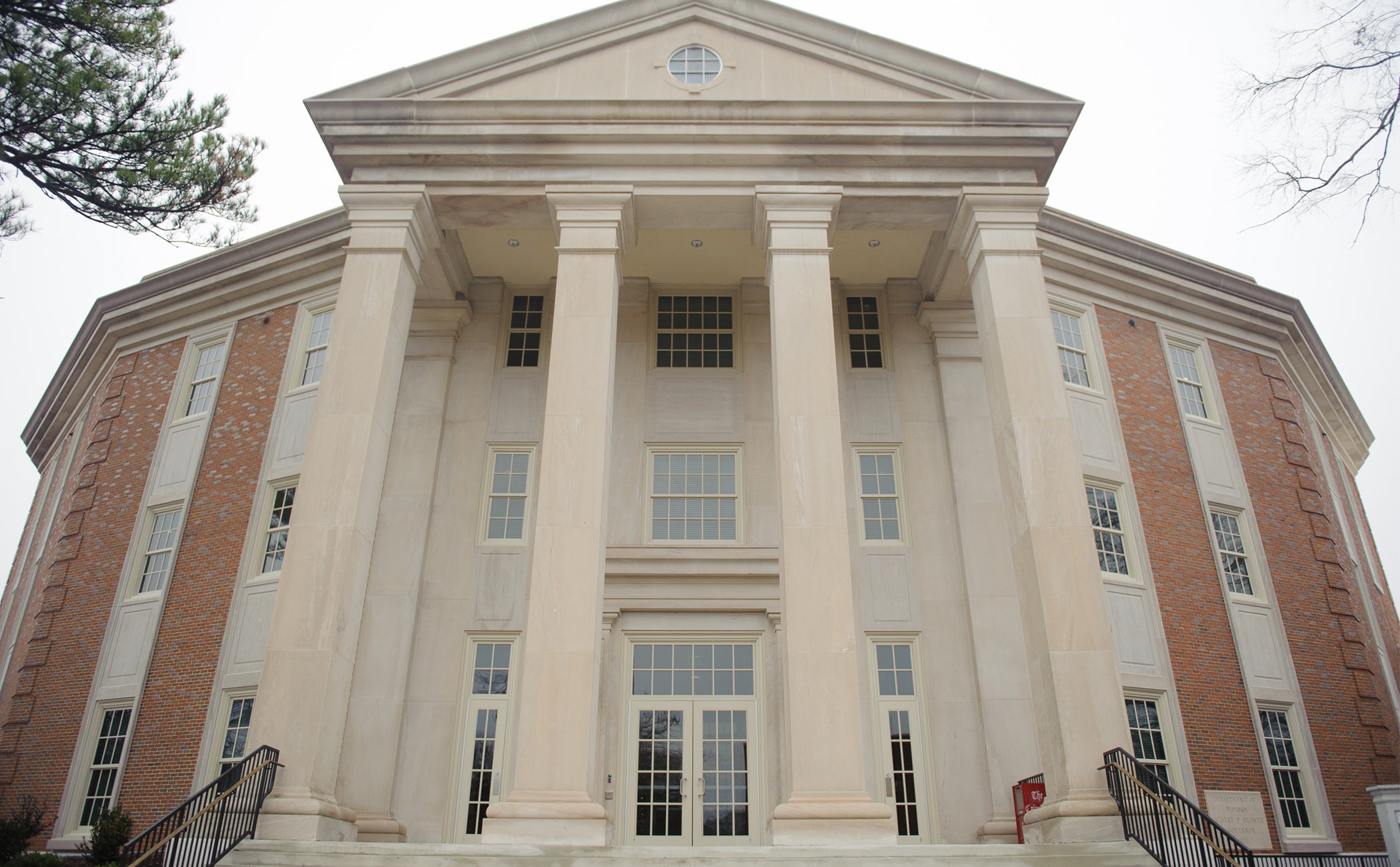 The uniquely shaped Math and Science Building got major interior and exterior upgrades.
The Math and Science Building, formerly known as the Biology Building, and adjacent auditorium underwent extensive renovations and opened in January.
A complete interior demolition paved the way for the building to be redesigned with more contemporary, open and collaborative learning spaces and also brought with it replacement of the mechanical, life safety and security systems; new elevators; new classroom audiovisual technology; and new finishes and furnishings throughout the building.
While the majority of the work concentrated on the interior, significant exterior renovations were also made, including new roofing, and replacement of all windows and entry doors. The project also called for new entry canopies, sidewalks and a pedestrian plaza, as well as the installation of limestone cladding to help make the building's appearance more consistent with campus architecture.
Tutwiler Hall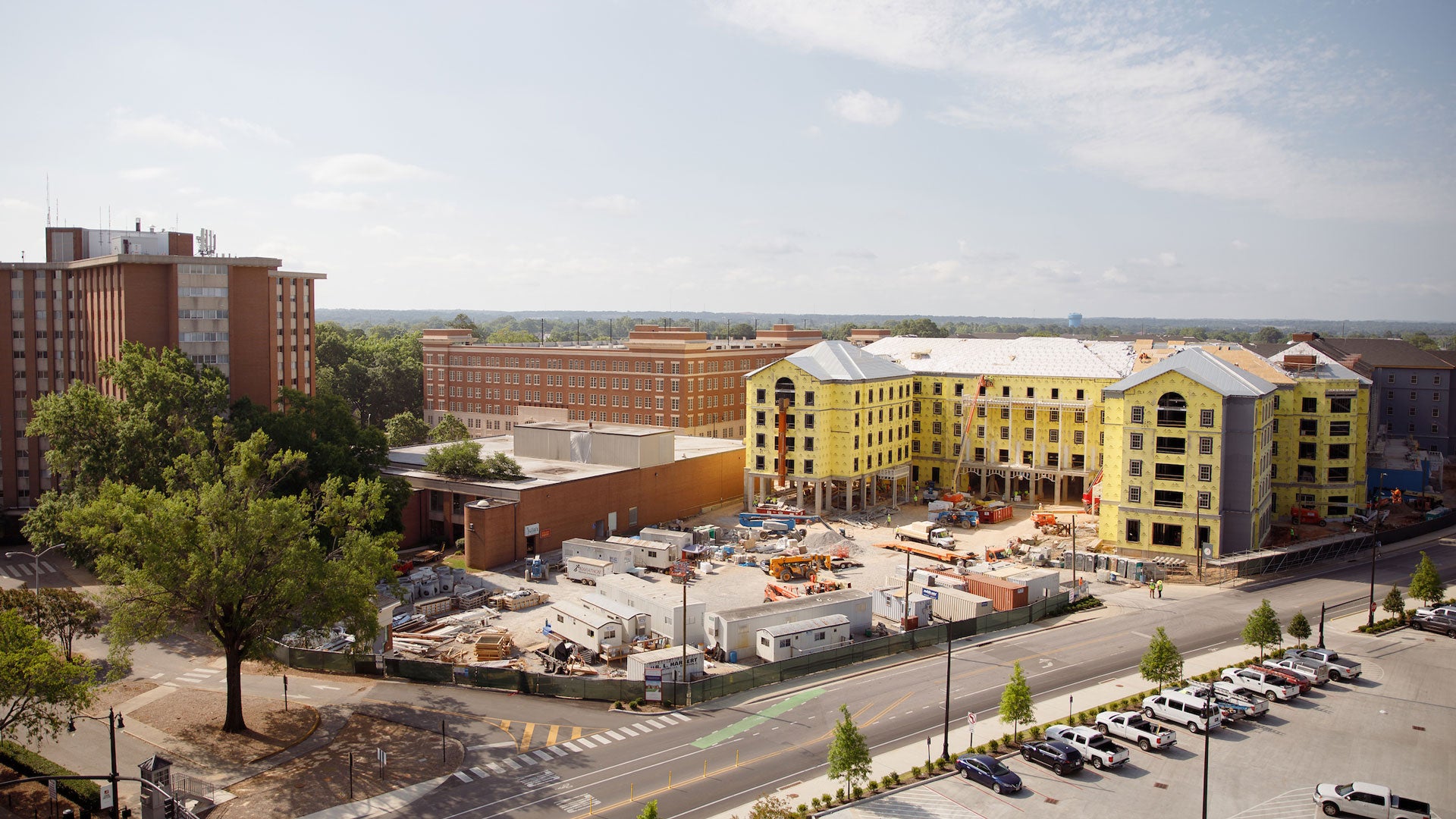 The new Tutwiler residence hall is on schedule to open in August 2022.
As construction of the new Tutwiler Hall continues, part of the existing Tutwiler Hall was demolished over the summer. The building occupied by the former math lab, annex and Julia's Market north of Tutwiler was demolished.
The new residence hall, scheduled to open in August 2022, will consist of double-occupancy units with private bathrooms. Each level will include small, social gathering spaces that will provide a sense of comfort and community for students.
To learn more about ongoing and future construction projects, visit the Building Bama website.
Contact
Bryant Welbourne, UA Strategic Communications, bryant.welbourne@ua.edu
The University of Alabama, part of The University of Alabama System, is the state's flagship university. UA shapes a better world through its teaching, research and service. With a global reputation for excellence, UA provides an inclusive, forward-thinking environment and nearly 200 degree programs on a beautiful, student-centered campus. A leader in cutting-edge research, UA advances discovery, creative inquiry and knowledge through more than 30 research centers. As the state's largest higher education institution, UA drives economic growth in Alabama and beyond.