In honor of Black History Month, The University of Alabama proudly celebrates the Black students, alumni, faculty and staff who have shaped UA's history and legacy through their extraordinary contributions and accomplishments.
Here's a look at just a few of the many individuals who as students paved the way for future generations and as alumni made a lasting impact not just on UA, but also on the world.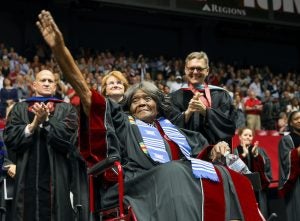 Autherine Lucy Foster was the first African American student to attend The University of Alabama. On Feb. 3, 1956 (65 years ago this week), Foster attended her first class as a graduate student in library science, becoming the first African American ever admitted to any white public school or university in Alabama. The University named an endowed fellowship in her honor in 1992, and in 2010, dedicated the Autherine Lucy Clock Tower.
Vivian Malone Jones was UA's first African American graduate. In 1963, she and James Hood arrived on campus with the intention to enroll. Waiting for them and blocking the entrance to Foster Auditorium was Gov. George Wallace. President John F. Kennedy eventually forced Wallace to permit their entry to the University. Malone graduated in 1965 with a bachelor's degree in business management and later worked at the U.S. Department of Justice, the U.S. Veterans Administration and the U.S. Environmental Protection Agency.
Hood was one of the first African Americans to attend UA, along with Vivian Malone Jones. Hood left the university after only two months but returned in 1995 to earn his doctoral degree. He received his doctorate in interdisciplinary studies in 1997. Hood passed away in 2013.
Cleo Thomas was elected president of UA's Student Government Association in 1976, becoming the first African American student to hold the position. Thomas earned his undergraduate degree when he was 20 years old and went on to become an attorney in Anniston. Thomas was also elected to the Board of Trustees of The University of Alabama at age 27, the youngest trustee in history.
Read more stories and perspectives about the desegregation of UA at the Through the Doors 50th Anniversary website.
Discover more stories on UA pioneers as well as events and resources for UA's Black History Month 2021 celebration.
The University of Alabama, part of The University of Alabama System, is the state's flagship university. UA shapes a better world through its teaching, research and service. With a global reputation for excellence, UA provides an inclusive, forward-thinking environment and nearly 200 degree programs on a beautiful, student-centered campus. A leader in cutting-edge research, UA advances discovery, creative inquiry and knowledge through more than 30 research centers. As the state's largest higher education institution, UA drives economic growth in Alabama and beyond.