In honor of Black History Month, The University of Alabama proudly celebrates the Black students, alumni, faculty and staff who have shaped UA's history and legacy through their extraordinary contributions and accomplishments.
In 1972, UA's School of Law saw its first graduating class that included African Americans. These individuals have made invaluable contributions to law and justice in the state of Alabama.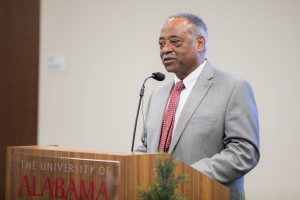 Michael Figures, Booker T. Forte Jr. and Ronald E. Jackson were the first Black graduates of UA's School of Law in May 1972.
A successful Mobile attorney, Figures was elected to the state senate in 1978. Re-elected four times, he rose to become president pro tempore in 1994. In the 1980s, Figures was the attorney in a lawsuit against two Ku Klux Klan members convicted of a race-related lynching. In that case, the jury returned a $7 million judgment that bankrupted the United Klans of America.
Forte, who grew up in Tuscaloosa and earned his bachelor's degree from UA in 1969, had a long, successful legal career. He handled cases in criminal law, domestic relations, civil rights, personal injury, torts, workers' compensation, insurance fraud and probate.
Jackson was educated in Birmingham's segregated Lane Elementary and Ullman High Schools. As a child, he participated in the 1963 "Children's Campaign" to desegregate the city of Birmingham and its public schools. He earned his Juris Doctor from UA after attending the Council on Legal Education Opportunity and the University of Virginia School of Law.
The Honorable John England Jr. was among the first group of African Americans admitted to UA's School of Law and graduated in 1974 after serving in the U.S. Army during the Vietnam War. England began his law practice in Tuscaloosa, where he has served his community, state and University for more than 40 years. Elected to the Tuscaloosa City Council in 1985, he served two terms as chair of the finance and community development committee. Gov. Jim Folsom appointed England to the Tuscaloosa County Circuit Court in 1993, where he became the first African American circuit judge in Tuscaloosa. In 1999, Gov. Don Siegelman appointed him to the Alabama Supreme Court, where he served until 2001. Currently, England serves on the Board of Trustees for The University of Alabama.
Sue Thompson was one of the first female African American graduates of UA's Law School, earning her degree in 1974.  She was a founding member of the first black law firm in Tuscaloosa. Most of Thompson's 40-plus-year legal career has been spent advocating on behalf of low income and marginalized groups. A frequent collaborator with the NAACP Legal Defense Fund addressing school desegregation issues in Alabama, she is a local public education advocate.
Discover more stories, events and resources for UA's Black History Month 2021 celebration.