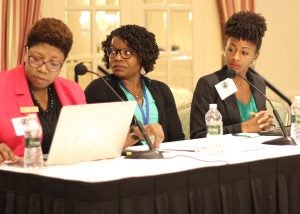 TUSCALOOSA, Ala. – University of Alabama Assistant Professor of Higher Education Dr. Krystal Williams was chosen by "Diverse: Issues in Higher Education" magazine as one of the nation's top 15 emerging scholars under the age of 40.
The scholars, who are featured in the magazine's Jan. 21 edition, were selected for making their mark on academia through teaching, research and service.
Williams, a 40-year-old native of Fort Worth, Texas, said she's excited that people have found the work she's passionate about to be influential.
"You don't do the work for a reward but it's always great to be acknowledged for the work that you do," she said.
Williams' research interests lie at the intersection of race and public policy. The two primary topics she studies are racial equity issues in Science, Technology, Engineering and Math, or STEM, fields and exploring the contributions of historically Black colleges and universities, or HBCUs, to higher education.
"I focus on equity issues in STEM to better understand how to increase the representation of racially marginalized students in these policy-relevant fields," she said. "…That's one part of my work. The other part focuses on HBCUs. What are the best practices at these institutions? How can we use that information to help other institutions and inform public policy?"
Williams has served as a faculty member in UA's Educational Leadership, Policy & Technology Studies Department for the past three and a half years. Prior to coming to the University, she worked in education policy at the United Negro College Fund (UNCF) Fredrick D. Patterson Research Institute in Washington, D.C.
She is a graduate of Clark Atlanta University where she studied mathematics and graduated as the valedictorian of her class. She completed her doctoral studies at the University of Michigan in the Center for the Study of Higher and Postsecondary Education.
Source
Dr. Krystal Williams, krystal.l.williams@ua.edu
Contact
Jamon Smith, strategic communications, jamon.smith@ua.edu
The University of Alabama, the state's oldest and largest public institution of higher education, is a student-centered research university that draws the best and brightest to an academic community committed to providing a premier undergraduate and graduate education. UA is dedicated to achieving excellence in scholarship, collaboration and intellectual engagement; providing public outreach and service to the state of Alabama and the nation; and nurturing a campus environment that fosters collegiality, respect and inclusivity.