The new addition to the Capstone College of Nursing couldn't open at a more essential moment in time.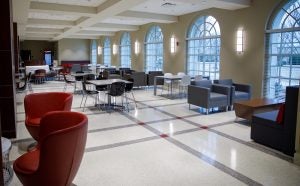 When doors to the new wing opened this month, the college celebrated the growth of its nursing program by expanding student learning and collaboration space and equipping faculty with the square footage needed to conduct research, prepare lectures and meet one-on-one with students.
In addition to the new learning spaces, the expansion brings other amenities exciting to students, including food service, an outdoor terrace and meditation labyrinth, as well as additional study space.
As part of the expansion project, CCN established the Charles D. and Mary Sue Beard Home Healthcare Laboratory, UA's first home healthcare lab. The funding for the naming of this lab was provided by a pledge from two of Charles' and Mary's children, John Beard and Susan Brouillette.
"Our parents are both deceased, and we wanted to continue to honor them for their many years of service in healthcare to the citizens of Alabama," said Brouillette. "Our parents were pioneers in home health. We were the first private home health care agency in the Birmingham area."
Charles Beard was a retired World War II pilot and related to the need for home healthcare because his mother died in a nursing home while he was stationed away with the military. Charles and Mary Sue founded Alabama Home Health Care in 1970. The business became known as Alacare, and later Alacare Home Health & Hospice. It remained a family-owned and operated business until 2019 when John and Susan sold the company, which is now Encompass Home Health & Hospice.
"Home health and hospice are areas of growing patient need and career opportunity," said Brouilette. "We are excited to assist the Capstone in providing this focused laboratory. We, as a family, understand how critical this care is and are grateful to help future nurses learning about its tremendous value."
Centrally located on the second floor of the new wing, the lab mirrors the appearance of a studio apartment, complete with a living space, kitchenette, bedroom and bathroom. The college paid close attention to details, such as including a full-size tub to allow students the opportunity to practice safe transfers of patients throughout living quarters.
"We are grateful for all our donors and especially for those who provided naming opportunities within the expansion," said Suzanne Prevost, dean of the Capstone College of Nursing. "During the quarantine, the essential role of home healthcare providers has been brought to the forefront and we are particularly proud to make this type of laboratory space available at The University of Alabama. We are honored that John and Susan chose to support the college's priorities and continue their parent's legacy through naming this space."
Capstone College of Nursing Expansion Ribbon Cutting
The University of Alabama, part of The University of Alabama System, is the state's flagship university. UA shapes a better world through its teaching, research and service. With a global reputation for excellence, UA provides an inclusive, forward-thinking environment and nearly 200 degree programs on a beautiful, student-centered campus. A leader in cutting-edge research, UA advances discovery, creative inquiry and knowledge through more than 30 research centers. As the state's largest higher education institution, UA drives economic growth in Alabama and beyond.