In fall 2019, the athletic training program moved into a newly renovated space at Capital Hall on the Bryce campus. College of Human Environmental Sciences administrators and athletic training faculty were thrilled to secure a new home that brought classrooms, labs and faculty offices under one roof.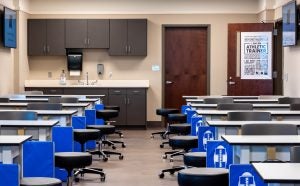 The move was important to the program for a number of reasons. Crucial was the fact that the group had outgrown their old space. In Moore Hall where lab and classrooms were formerly located, athletic training only had one area with treatment tables, which limited the ability to offer more than one hands-on class at a time.
Courses often had to be scheduled in the evenings, required extensive setup of rooms to make them lab space, or teaching methods had to be changed to accommodate the space limitations.
"In the new space, we have two large rooms for lectures, a lab and two smaller rooms that can be used as either lecture or lab space. This lets us adjust the classes to better fit our students' intensive schedules, giving them more time to spend at clinicals and get involved in other campus activities," says Dr. Lizzie Elder (Hibberd), program director. "It also allows us to use better pedagogical strategies to enhance their learning experience."
The new versatile learning spaces meet the unique needs of athletic training instruction. For example in one of the classrooms, tables have a hard surface like a writing desk but include a pad that can be flipped up to provide a soft surface where students can practice their skills. These touches allow athletic training to maximize space and minimize setup and takedown. In the teaching lab, television screens line the walls, enabling students to see procedures such as suturing or IV insertion performed up-close as they are practicing them.
The athletic training suite also includes seven offices, a conference room, an administrative room, a student study area and lots of storage.
A big plus of housing classroom, lab and faculty offices in one building is that faculty are able to see and engage with the students more. Elder explains, "I had more students in my office for office hours last year than I did in my previous five years combined! Because we were convenient to them, they viewed us as more accessible."
That is a win-win situation in an intensive program that benefits from one-on-one interaction between students and faculty and close-knit student cohorts.
"I had more students in my office for office hours last year than I did in my previous five years combined! Because we were convenient to them, they viewed us as more accessible."
"We are very thankful for our new space in Capital Hall and the enhanced educational experience for the students. We love connecting with alumni, so if you want to see the new space, just reach out," says Elder.
Along with a welcomed change in location, athletic training at UA is altering its program model. In 2015, the Athletic Training Strategic Alliance announced that the CAATE Standards for Accreditation of Professional Athletic Training Programs would be changed to require that professional programs be at the master's degree level.
CHES faculty and administrators have dedicated themselves to meeting this accreditation requirement and to continue providing an exceptional education for athletic training health care providers. The Master of Science in Athletic Training degree was approved by the UA Board of Trustees and Alabama Commission on Higher Education, and the anticipated first cohort of the new master's program will begin in fall 2022.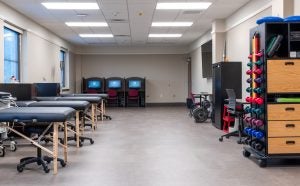 This change will have no impact on students that are currently enrolled in the professional phase of the B.S. in athletic training degree program. Athletic training on the undergraduate level continues with the last class starting the program in August 2021 and graduating in May 2024.
Additionally, an undergraduate minor has been approved and will be a future part of the UA athletic training program.
In the midst of the many changes taking place in the athletic training program, a smooth transition of leadership took place as well. Dr. Lizzie Elder was appointed director of the program when long-time leader, Dr. Deidre Leaver-Dunn, was promoted to CHES associate dean for academic affairs. Elder has taught in the program and conducted research at UA since 2014. She earned her B.A. and M.A. degrees in athletic training and a Ph.D. in human movement science from the University of North Carolina at Chapel Hill.
The athletic training program at UA is in good hands, and in a good space. It is poised to continue to be recognized as one of the best places in the country to prepare professional athletic trainers.