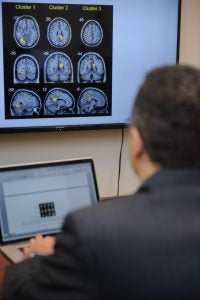 TUSCALOOSA, Ala. – A new MRI scanner at The University of Alabama paves the way for researchers to expand the boundaries of knowledge of the human brain, bringing benefits to the core educational mission of campus.
A $1.7 million major research instrumentation grant from the National Science Foundation will assist in purchasing a state-of-the-art MRI that will encourage interdisciplinary collaborations and allow for leaps in neuroscience research at UA.
"The University of Alabama is recognized as a top-tier research institution, and we have a growing concentration of neuroimaging and neuroscience researchers at UA," said Dr. Russell J. Mumper, vice president for research and economic development. "An MRI scanner on campus is essential for the successful execution of several funded research projects and will allow faculty the flexibility to pursue future projects."
An addition to University Medical Center is planned to house the MRI and support services within the new UA MRI Center. The grant allows UA to purchase a Siemens 3.0 Tesla MAGNETOM Prisma MRI scanner, MRI compatible eye-tracker and participant response system at UA for the study of brain systems supporting various aspects of human behavior and cognitive function. The proposed MRI system offers multichannel imaging, parallel transmit technology, and selective excitation that will allow investigators to shape the radio frequency pulse to specific anatomical regions for higher image quality and faster scan times.
The UA MRI Center was developed in a collaborative proposal last year from faculty in six UA colleges, the Alabama Life Research Institute and the University Medical Center in response to the Office of Research & Economic Development's new strategic plan, specifically the theme for transformative Initiatives.
Researchers from across campus, particularly from psychology, education, communicative disorders, health sciences and engineering will use the MRI to continue work at the forefront of basic and translational research in examining the human brain and its development. The Alabama Life Research Institute will oversee the UA MRI Center and facilitate and encourage innovative and cross-disciplinary projects using the MRI.
"The research enabled through this MRI facility will boost our understanding of the neuroscience of learning and neurodegenerative diseases, bringing benefits to our entire state as well as the broader society," said Dr. Sharlene Newman, ALRI executive director and co-lead on the NSF grant. "There's a lot of collaborations we are developing not just on the biological side of neuroscience, but with computational researchers, as well."
While there has been a lot of progress in understanding the brain and its development, there remain unanswered fundamental questions about typical and atypical brain function, said Dr. Rajesh Kana, professor of psychology, director of the Center for Innovative Research in Autism and lead on the NSF grant.
"The University of Alabama will be well equipped to address these questions of how the brain works, that can lead to interventions that help society, whether it is improving the lives of people with autism spectrum disorder, assisting those with substance abuse or helping children learn to read," Kana said.
The MRI facility will also position the University to bring a diversity of participants and perspectives to national research through UA's location near economically depressed rural areas, Newman said. Many research-based MRIs are located in large, urban centers, but UA already has a network of rural health care research and outreach.
"This marries the University's strengths with MRI research," she said. "There are gaps in research because of the difficulty of reaching rural populations, but we will expand the diversity of participants that will help our researchers to be competitive in participating in and directing national research."
Both graduate and undergraduate students will benefit from the MRI. Undergraduate students can gain hands-on training and learn basic concepts of neuroscience so they can consider and pursue careers in neuroscience, Newman said.