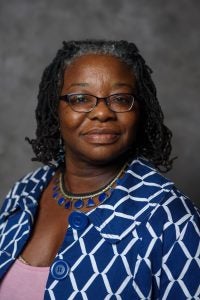 TUSCALOOSA, Ala. – Five faculty members from The University of Alabama are part of a research coalition funded by the Chan Zuckerberg Initiative and aimed at strengthening the community's role and involvement in an equitable COVID-19 vaccination campaign.
Alabama is one of five sites of the CommuniVax initiative — a rapid ethnographic research project examining facilitators and barriers to vaccine uptake in historically underserved communities of color in the United States. Local research teams will listen to community members and work with them to develop suggestions on how to strengthen COVID-19 vaccine delivery and communication strategies.
The coalition will synthesize and disseminate community viewpoints to national stakeholders to develop a more equitable and effective vaccination effort, with an enduring impact on public trust.
The COVID-19 pandemic has disproportionally affected communities of color in the United States. Across the country, COVID-19 infection and mortality rates are highest in non-white groups, particularly Black, Indigenous and Latino/Latinx populations. The pandemic continues to exacerbate systemic factors that drive longstanding health inequities among communities of color. This situation is compounded in states with substantial rural populations like Alabama, by issues of poverty, transportation and shrinking health care infrastructure.
The forthcoming vaccination efforts can help mitigate COVID-19 transmission and burden, but hard-hit communities must have an active role in the vaccination campaign.
"All the researchers on our local team, and in the larger project, have a strong commitment to community partnership in health promotion," said Dr. Stephanie McClure, assistant professor of anthropology and CommuniVax Alabama principal investigator. "We believe our efforts to identify the concerns that foster vaccine hesitancy and to engage communities as partners in encouraging vaccine uptake will help bring the current health crisis and its accompanying restrictions on our daily lives to an end more quickly."
Along with McClure, UA researchers involved include Dr. Kathryn Oths, professor emeritus of anthropology; Dr. Levi Ross, associate professor of health sciences; Dr. Pamela Payne-Foster, physician and professor of community medicine and population health; and Dr. Bronwen Lichtenstein, medical sociologist and professor of criminology and criminal justice.
An initiative led by the Johns Hopkins Center for Health Security at the Bloomberg School of Public Health and the Texas State University Department of Anthropology, CommuniVax has received a $2 million grant from the Chan Zuckerberg Initiative to fund this vital research. The two leading institutions will work with the five local research teams, a national expert working group, and a network of national associations representing stakeholders on both sides of vaccination — that is, system operators and beneficiaries.
"By understanding the concerns and desires of people of color and the constraints they experience, and by supporting them to take charge of their hometown's vaccination responses, this project has the potential to increase vaccination rates and decrease the health, economic and social effects of the pandemic," says Dr. Monica Schoch-Spana, a medical anthropologist and senior scholar at the Johns Hopkins Center for Health Security.
CommunVax teams are mobilizing in four other sites across the United States: San Diego, California; Southeastern Idaho, Baltimore City, Maryland; Prince George's County, Maryland. All five teams will collect data through February, sharing their findings with the national expert working group and national and local stakeholders by spring, when it is estimated that vaccination will be made available to the general public. A key partner is the Association of Immunization Managers, which represents public health professionals working in the United States and territories to prevent and control vaccine-preventable deaths in their communities.
"This project represents a timely opportunity to support community alignment around COVID-19 vaccination," says Dr. Emily Brunson, associate professor of anthropology at Texas State University. "There are many longstanding issues that need to be considered in this and future public health emergencies. It is important for public health experts and practitioners to learn from— and work directly with — communities to nurture trust and build collective ownership."