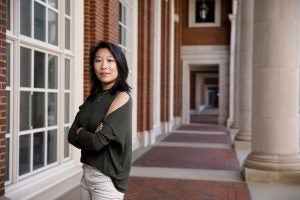 University of Alabama senior Lauren Pan received one of the Society of Women Engineers' most prestigious collegiate awards this year.
Pan was named Outstanding Collegiate Member for her "stellar academic and internship performance; for commitment to both ethics and social responsibility; and for championing diversity and inclusion in SWE, on campus and beyond." The award was announced at SWE's annual WE20 conference, held virtually in early November.
SWE is a worldwide organization that advocates for women in engineering and technology with more than 40,000 members globally, about half of which are collegiate members.
Pan, an Atlanta native majoring in chemical engineering, has served in numerous leadership positions within UA's SWE section, as well as at the Society level, including positions as a global co-lead for the LGBTQ+ and allies affinity group. She was also elected as the only collegiate member for last year's SWE Senate.
Although only about 13% of engineers are women, organizations such as SWE help students like Pan more easily find their way in the field of engineering.
"UA has such a large campus and large College of Engineering," said Pan, who is attending UA on Presidential and Engineering Leadership scholarships. "Having an organization like SWE allows students to really build a sense of community within such a large organization. It helps them find their place and the support they need."
The SWE award is a fitting addition to Pan's long list of achievements. She's devoted much of her college career working to make a big impact on her field, as well as on the lives of those working in it.
Pan is a committed advocate for diversity and inclusion, with a specific focus on inclusion of the LGBTQ+ community and all underrepresented genders in STEM. She recently founded the UA chapter of Out in STEM, or oSTEM, a national organization that works to bring more diversity to engineering.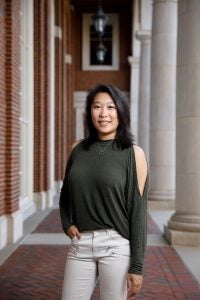 Academically, she's made her mark, as well. Pan has been heavily involved in genetic engineering research for the past six years, working in multiple labs while at the University, and even founding a UA team for the International Genetically Engineered Machines, or iGEM, Competition.
"In high school, I was part of a team that was one of only five high school teams in the country who competed at the collegiate level in international genetic engineering," said Pan. "My experience in high school really spurred my interest in starting an iGEM team at UA. Last year, the team I founded was one of the first college teams in the state of Alabama to compete in an international genetic engineering competition. It was held in Boston, and our team competed really well."
Pan is in the STEM Path to the MBA program, which allows high-achieving undergraduate students majoring in STEM disciplines to earn an MBA only one year beyond completion of an undergraduate degree. She will earn a Bachelor of Science degree this May and MBA the following spring.
During her sophomore and junior years, Pan completed two co-ops with a medical device company in Minneapolis, where she gained real-world experience in developing new technologies to help patients. Upon graduating from UA, she plans to pursue full-time employment in medical device engineering.
The University of Alabama, part of The University of Alabama System, is the state's flagship university. UA shapes a better world through its teaching, research and service. With a global reputation for excellence, UA provides an inclusive, forward-thinking environment and nearly 200 degree programs on a beautiful, student-centered campus. A leader in cutting-edge research, UA advances discovery, creative inquiry and knowledge through more than 30 research centers. As the state's largest higher education institution, UA drives economic growth in Alabama and beyond.