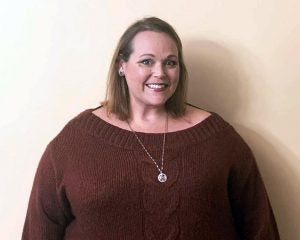 By Melissa Parker
After 16 years of working in the child welfare system, Holly Barnett had maxed out her options for moving up in her field.
With hopes of advancing her career, Barnett, a social worker who lives in West Blocton, Alabama, decided to go back to school. Little did she know, she'd be inspired by her college courses to run for, and win, a city council seat.
"I wanted to help license foster homes, and in order to do that, I had to have a higher degree," said Barnett, who holds a bachelor's degree from the University of West Alabama. "I was encouraged by a former supervisor to pursue a master's degree. When I applied to UA, I honestly didn't think I'd get in because it had been so long since I was in college. But UA worked with me."
Barnett enrolled at UA in the fall of 2019 in the Master of Social Work distance learning program.
"I'm a married, 39-year-old, working mom of a two-year-old daughter," said Barnett. "So even though UA is basically in my backyard, going to in-person class is not feasible for somebody like me. Even though I don't see my professors face-to-face, they've been great with answering all my questions. And I've received a ton of support from my online classmates. I've gained more knowledge in the field of social work while taking online classes at UA than I have in all my years of working in the child welfare system."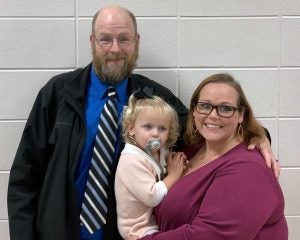 Last spring, Barnett took two social work courses that would change the direction of her life: social work practice with community, taught by Dr. Carol Drolen, associate professor of social work, and advanced social welfare policy analysis, taught by Dr. Karen Starks, assistant professor of social work.
Through research required for the courses, Barnett discovered there was an exceptionally high poverty rate in her town, in addition to a particularly high disability rate.
"To me, that's the ideal social worker…to help, encourage, empathize and support those in our community to be the change and to advocate for a better community."
When she started looking into the city's laws and attending town hall meetings, required for the policy course, she realized that some important issues, such as food security and bill assistance, were not being addressed.
"People are struggling to even pay their water bills," said Barnett. "There are areas that need to be brought to light in my town, with the poverty and disability rate so high, only having one food bank in town that requires individuals to show proof they need assistance, not having a grocery store, no dentist. There are things I want to help my town do, to create resources to better ourselves, to better our town."
Even though holding political office was far beyond what she had planned for her life, she decided to run for a city council seat in July of 2020, with a vision to help strengthen the town's current assets and develop new ones to address its challenges.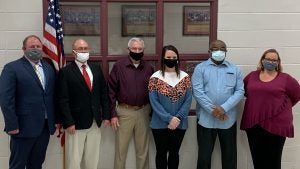 She ran her campaign with just $150 and with the help of her husband, daughter and a few family and friends. She spent hundreds of hours in her neighbors' living rooms, conveying her vision to bring needed help and change to their town.
Barnett won the election in August and was sworn into office at the beginning of November.
She will graduate from UA in May 2021 and hopes to continue to use her knowledge of social work to benefit the residents of West Blocton.
"To me, that's the ideal social worker," said Barnett. "To help, encourage, empathize and support those in our community to be the change and to advocate for a better community."