By Adam Jones
When Austin Pearson came to The University of Alabama, he didn't speak a word of German. Three years later, he was sitting in conference rooms at Mercedes' headquarters in Germany, participating in meetings spoken in German about the company's newest car models.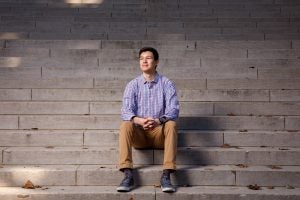 Pearson took part in a unique program at The University of Alabama, learning German alongside his engineering courses while working for Mercedes-Benz in Alabama and in Germany.
Offered through the UA College of Engineering, Two Steps Ahead: International German Student Exchange Program is designed for a select group of students to gain experience with multi-national companies in automotive engineering while learning German. It is a huge reason why Person left the Chicago, Illinois, area to come to UA.
"I'm happy that I chose to come here and be a part of this program," he said. "The whole experience opened my eyes, and learning a new language and going abroad was a great experience."
Pearson graduates with his bachelor's degree in mechanical engineering and German this semester, and has already begun his graduate studies toward a doctorate.
He came to UA in 2016 never studying German, but was quickly immersed in his German major while beginning his engineering studies. After his sophomore year, he worked the summer at Mercedes-Benz U.S. International, an automotive manufacturing facility near UA. He interned as a process engineer in the paint and body shop helping improve output and troubleshooting technical and automation issues that arose.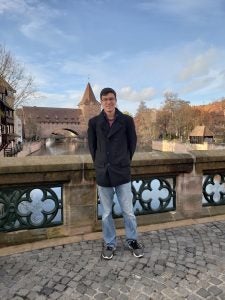 He continued his engineering studies, even taking an automotive engineering course taught in German by Dr. Bharat Balasubramanian, an engineering professor who was vice president of Daimler AG's group research and advanced engineering before joining UA.
In fall 2018, Pearson moved to Germany to study for a semester at Hochschule Esslingen, University of Applied Sciences, and work for Mercedes in Stuttgart in project management during the spring and summer of 2019.
"It was really cool seeing what goes into these cars," Pearson said. "You think about what goes into a car, especially a Mercedes S-Class with all its complexity and detail, it was a great learning experience to work with the engineers on the project."
The deep cultural immersion that came with a year in Germany was worth the hard work it took to be part of UA's program, he said.
"I have a great respect for people who come to the U.S. to study," he said.
For now, Person envisions a path in research, having worked in the lab of Dr. Kalyan Srinivasan, associate professor of mechanical engineering, on internal combustion engines. He will continue studying under Srinivasan as a graduate student.
His undergraduate research work culminated with being selected as one of two undergraduate winners for his virtual presentation at the 2020 Fall Technical Conference of the Internal Combustion Engine Division of the American Society of Mechanical Engineers.
Learn more about the Fall 2020 graduating class on UA's commencement page.