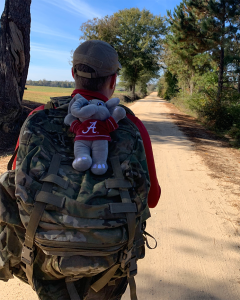 TUSCALOOSA, Ala. – Before The University of Alabama and Auburn University meet on the gridiron, student veterans support groups from both universities will come together to bring awareness to veteran suicide.
Members of UA's Campus Veterans Association will march along side Auburn's Student Veterans Association in the third annual Operation Iron Ruck that will begin in Auburn Nov. 25 and end in Tuscaloosa ahead of the Iron Bowl Nov. 28.
"Veteran suicide is a serious issue in the veteran community," said Ben Shewmake, president of UA's Campus Veterans Association. "The loss of camaraderie, along with service-related problems leave some believing their only way to fix their issues is to end their life. This can be attributed to some people not transitioning back into society, sexual assault issues, family problems and military-related illnesses."
During the three-day trip, each student veteran will hike approximately 50 miles and walk for 2 ½ hours before climbing into a support vehicle for about five hours of rest before their next hike.
Student veterans from UA and Auburn will carry 22 pounds of materials to be donated to 3 Hots and a Cot, a Birmingham-based nonprofit organization that assists homeless military veterans transition from life on the streets into a self-sustained lifestyle. The weight carried represents the 22 veterans who commit suicide every day according to Mission 22, a national veteran suicide campaign.
According to Shewmake, participation will be limited due to the COVID-19 pandemic and many of the traditional activities, such as a tailgate and other fellowship opportunities, will be adjusted to comply with CDC, state and university health guidelines.
"The awareness is not to say, 'hey this is happening,' but more to tell the ones who are thinking about it that there are people who care and are here if they reach out," said Shewmake. "There is also a newer message that is popping up that is to tell everyone to keep in touch with their former colleagues and that one random text or call to someone may keep them from committing suicide and no one will probably ever know that.
"It's as much to tell those who may be struggling that people care as it is to tell the people who care to reach out rather than wait on being reached out to."
Resources & How to Find Help
If you are experiencing suicidal thoughts or have concerns about someone else who may be, call the National Suicide Prevention Lifeline at 1-800-273-TALK (8255). You will be routed to a local crisis center where professionals can talk you through a risk assessment and provide resources in your community.
The Veterans Crisis Line and Military Crisis Line connect veterans and service members in crisis and their families and friends with qualified, caring U.S. Department of Veterans Affairs responders through a confidential toll-free hotline

(

1-800-273-8255, Press 1).
Contact
Bryant Welbourne, UA Strategic Communications, bryant.welbourne@ua.edu
The University of Alabama, part of The University of Alabama System, is the state's flagship university. UA shapes a better world through its teaching, research and service. With a global reputation for excellence, UA provides an inclusive, forward-thinking environment and nearly 200 degree programs on a beautiful, student-centered campus. A leader in cutting-edge research, UA advances discovery, creative inquiry and knowledge through more than 30 research centers. As the state's largest higher education institution, UA drives economic growth in Alabama and beyond.