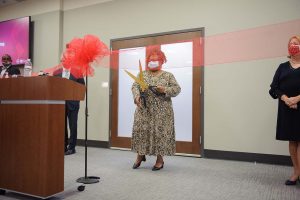 The University of Alabama's Division of Diversity, Equity and Inclusion recently opened the new location of its Intercultural Diversity Center. Known as the IDC, it's now housed on the second floor of the Ferguson Student Center, near the Quad entrance.
"The center is all about cultural learning, cultural sharing and cultural teaching—those are the three pieces to our mission," said LaToya Scott, assistant vice president for engagement and programming and the acting director of the IDC. "There's so much we can do with this space, and we hope students, faculty and staff will take advantage of it."
The center began in 2016, after a group of students expressed a desire for increased cultural awareness on the UA campus, as well as a place where they could connect in a diverse and welcoming space. It was originally located in the Riverside Community Center.
A small, socially distanced crowd gathered on October 14 as Dr. Christine Taylor, vice president and associate provost for diversity, equity and inclusion, cut the ribbon on the new IDC.
"Our vision for this space is to be a resource for students, staff and faculty on issues of diversity, equity and inclusion," said Taylor. "We want the IDC to be a place for personal growth as we learn about, from and with others."
The IDC is a flexible space that can be used by individuals or groups. In addition, it can be set up for classes and lectures. The center's conference room offers more privacy for calls or meetings.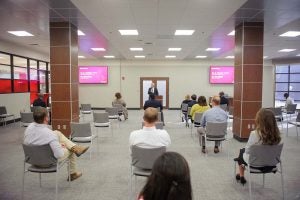 "The space is for everyone on campus to come relax, get to know each other, collaborate, learn and just have a welcoming space on campus," said Scott. "We hope students will drop by to do their homework or grab lunch and come in to hang out. We just want people to use the space."
The center offers weekly programming, with events organized and sponsored by both student groups and IDC staff.
The IDC is open Monday through Friday from 8 a.m. to 9 p.m., and unlike many other official university spaces, the IDC is open on the weekends, on Saturdays from 11 a.m. to 7 p.m. and on Sundays from noon to 6 p.m., to provide more opportunities to use the space.
The space can be reserved for no charge by calling 205-348-9029.
More information can be found on the IDC website.
The University of Alabama, part of The University of Alabama System, is the state's flagship university. UA shapes a better world through its teaching, research and service. With a global reputation for excellence, UA provides an inclusive, forward-thinking environment and nearly 200 degree programs on a beautiful, student-centered campus. A leader in cutting-edge research, UA advances discovery, creative inquiry and knowledge through more than 30 research centers. As the state's largest higher education institution, UA drives economic growth in Alabama and beyond.