This year has looked a bit different than years past. But even with all the changes, University of Alabama students have navigated the fall semester exceptionally well.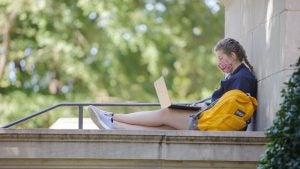 With fall 2020 now in the homestretch, UA faculty and staff are committed to ensuring students continue on the path to success and finish the semester strong.
The peer coaches, tutors and student leaders at the Capstone Center for Student Success offered some of their best advice for students as they wrap up the semester.
Communicate with your professor now if you need to. Don't wait until finals week to reach out if you have a question or a problem. – Julia Service, student leader
Read your syllabus again and make sure you are set to meet all requirements by the end of the semester. Also check your syllabus for information on bonus work, final exams and final projects. – Caroline Bennett, peer coach
Go through your previous tests and exams, figure out your weak points and seek help for these areas early (professor, GTA, tutor or extra study time). – Oreoluwa Agede, student leader/peer tutor
Begin studying for finals as soon as possible, and develop a study plan to make sure you have time to cover everything. – Payton Morris, student leader
As you study for finals, try to explain concepts in your own words to a friend, a family member or even a pet. This helps solidify the knowledge you learned and is very effective for memory retention. – Caroline Yuk, peer tutor
Stay organized by keeping a calendar or an agenda for your study time and your exam schedule. Making plans helps you stay on track. – Aly Gutierrez, peer tutor
Get plenty of sleep the night before a test. – Cody Hanners, student leader
The end of the semester can be very stressful. Find time to take breaks and relax so that your mind is in the right place. – Trace Naman, peer tutor
Best resources
The are a number of academic services available to help students finish the semester strong:
Capstone Center for Student Success — provides a network of services to support student success. Services are free and are being offered virtually this semester. Online support includes tutoring, academic coaching and skill sessions through Zoom.
Writing Center — offers free writing support services to the campus community, including tutoring, workshops and other writing resources. All services are exclusively online this semester. Students can get help with their work at any stage in the writing process.
University Libraries — offers a multitude of resources to students and provides access to study spaces, hundreds of online databases, research help and so much more. Many safety precautions have been put in place. Hours vary from each library location.
Helpful articles and links
The University of Alabama, the state's oldest and largest public institution of higher education, is a student-centered research university that draws the best and brightest to an academic community committed to providing a premier undergraduate and graduate education. UA is dedicated to achieving excellence in scholarship, collaboration and intellectual engagement; providing public outreach and service to the state of Alabama and the nation; and nurturing a campus environment that fosters collegiality, respect and inclusivity.