Tide United: Let Kindness be Your Story is UA's campaign theme this year.
Each autumn, The University of Alabama holds its annual United Way Campaign in support of the United Way of West Alabama. The campaign, like so many things in 2020, will look a little different this year, but the goal — to support UWWA and, by extension, its 26 partner agencies — remains the same.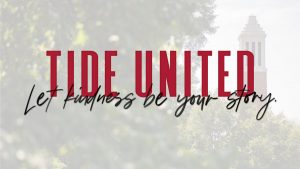 This year's host college, the College of Communication and Information Sciences, will use the WVUA studio to share the 2020 UA United Way Campaign Kickoff via the College's Facebook page Thursday, Oct. 8, at 2 p.m.
All are invited to join WVUA news director and anchor Lynn Brooks and director of the speaking studio Dr. Adam Brooks, who are serving as campaign co-chairs, as well as University of Alabama President Stuart R. Bell, Dr. Mark Nelson, dean of the College of Communication and Information Sciences, other members of the campaign leadership, and Big Al.
This year's campaign is more important than ever as United Way supports the community during the COVID-19 pandemic. The organization's West Alabama Community Response Fund is assisting residents impacted by COVID-19.
Learn more about this year's campaign at the 2020 campaign headquarters website.
The University of Alabama, the state's oldest and largest public institution of higher education, is a student-centered research university that draws the best and brightest to an academic community committed to providing a premier undergraduate and graduate education. UA is dedicated to achieving excellence in scholarship, collaboration and intellectual engagement; providing public outreach and service to the state of Alabama and the nation; and nurturing a campus environment that fosters collegiality, respect and inclusivity.