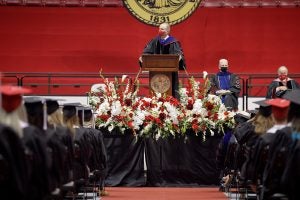 TUSCALOOSA, Ala. — The University of Alabama will hold fall commencement exercises Saturday, Dec. 12, at Coleman Coliseum on the UA campus. More than 2,000 graduates are expected to be in attendance for four ceremonies.
Ceremony times for each college include:
9 a.m.- Colleges of Communication and Information Sciences and Engineering
Noon – Culverhouse College of Business and College of Education
3 p.m.- College of Human Environmental Sciences and Capstone College of Nursing
6 p.m.- Colleges of Arts and Sciences and Community Health Sciences and School of Social Work
The December ceremonies will follow the same model UA used to facilitate nine safe and successful commencement exercises in August.
A number of precautions will be taken to meet health and safety standards.
Each graduate may invite up to four guests to the ceremony, and digital tickets will be distributed prior to commencement. Guests must arrive and sit together in designated seating areas.
To maintain physical distancing guidelines, four different ceremonies will take place throughout the day, with a maximum of 530 graduates participating in each.
Masks are required for everyone attending the event. Graduates and guests are encouraged to bring their own masks.
There will be sanitizing stations throughout the coliseum, and the venue will be cleaned and sanitized between all ceremonies.
More information, including live and recorded webcasts details, interactive campus map, parking information, lodging details, graduate profile stories and fast facts about the 2020 fall class can be found on UA's Commencement website. Commencement information can be heard on UA's radio station, 92.5 FM.
Contact
Melissa Parker, UA communications, melissa.parker@ua.edu
The University of Alabama, the state's oldest and largest public institution of higher education, is a student-centered research university that draws the best and brightest to an academic community committed to providing a premier undergraduate and graduate education. UA is dedicated to achieving excellence in scholarship, collaboration and intellectual engagement; providing public outreach and service to the state of Alabama and the nation; and nurturing a campus environment that fosters collegiality, respect and inclusivity.