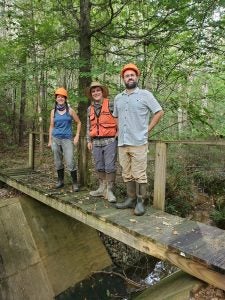 Biologists at The University of Alabama are part of a national research project that addresses water quality at the critical connection between streams that flow continuously and those with intermittent flow.
The 4-year project will create the field infrastructure needed to study intermittent streams and train researchers to interpret and use the data collected at the sites. The project, led by the University of Kansas, involves 18 professors at eight institutions across the United States in all.
In an effort dubbed the Aquatic Intermittency effects on Microbiomes in Streams, or AIMS, project, the researchers plan to install new sensors and field sites, train a dozen graduate students and numerous undergraduates in team-science approaches, train 36 new instructors in teaching data science methods, and boost workforce development and education. The work will also inform sometimes thorny policy and legal debates.
UA will receive $1.7 million from the National Science Foundation grant. Dr. Carla Atkinson, associate professor of biological sciences, will lead work at UA that includes Dr. Jon Benstead, professor of biological sciences, and Dr. Nathaniel Jones, assistant professor of biological sciences.
"At The University of Alabama, we're excited to incorporate intermittent streams into our river ecosystem research program," Atkinson said. "We're particularly excited to see how our regional analysis in the southeast U.S. compares to work being conducted across the broad geographic scale that the AIMS project encompasses, while also engaging a diversity of researchers across career stages."
The team will address knowledge gaps on intermittently flowing streams, which control the quantity and quality of water delivered downstream to perennial streams and rivers. While much of the understanding of the linkages among microbial communities, stream health and water quality rely on studies of perennially flowing streams, more than half of global stream-miles do not flow continuously. These intermittent streams are found across the entire U.S.
Alabama is home to a wide range of important water resources. As the state's geography transitions from Appalachia to coastal lowlands, the state's rivers and streams support one of the most diverse aquatic ecosystems in the world. This project will examine how connectivity between terrestrial and aquatic systems impacts downstream water quality and ecosystem integrity.
About 40 percent of Alabama's streams and rivers go dry annually, but not much is known about what drives this drying, and importantly, how it impacts downstream water quality. This gap in knowledge comes from lack of physical infrastructure designed to measure intermittency, and scientific training that straddles aquatic and terrestrial ecology, Atkins said.
The AIMS project will address the first obstacle by creating a network of instrumented sites designed to generate "Big Data" to quantify flow intermittency, stream microbiomes and water quality. AIMS will confront the second obstacle by using its network to provide training in collaborative science and interdisciplinary methods to study intermittent streams, and by providing workforce training in environmental data tools through a new On Ramps to Data Science program, which will focus on data generated by microbiome sequencing, environmental sensors and Geographic Information Systems.
Research results could help resolve difficulties defining ecological connections between perennial and intermittent streams that lie at the heart of an ongoing policy debate over legal protection of isolated water bodies, as recently demonstrated by the late 2019 repeal of the 2015 Waters of the U.S. Rule. The researchers said the infrastructure installation planned under the AIMS project is designed to confront these difficulties head-on.
UA's project in the Southeast region will engage a diverse group of students, including undergraduates at Alabama A&M in Huntsville.
Information from an article at the University of Kansas was used in this report.