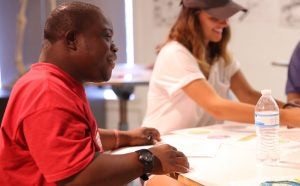 TUSCALOOSA, Ala. – The University of Alabama's CrossingPoints Transition Program, which provides young adults with intellectual disabilities the opportunity to develop life skills, has received two federal grants totaling more than $4 million to enhance education efforts for participants, as well as special education teachers and rehab counselors.
"Our ability to provide excellent preparation of our students in order to improve outcomes in their desired adult goals of employment, independent living, community participation and not to mention, have a great college experience while they are preparing for their futures, is something we have worked hard to achieve," said Dr. Kagendo Mutua, director and co-founder of CrossingPoints. "We want our students to have an enviable life after college."
The first award from the U.S Department of Education's Office of Postsecondary Education is a five-year grant totaling nearly $2.5 million that will allow CrossingPoints to expand and enhance the scope of its inclusive transition services and opportunities for accessing higher education by students with intellectual disabilities at UA. CrossingPoints is one of six nationally recognized programs to receive this competitive funding for a second time.
In addition to expanding services, the grant will allow CrossingPoints to significantly reduce the program fee for its Tier 3 program to $3,000 per semester. Peer institutions with similar programs have fees ranging from $9,000 to $15,000 per semester.
The project core team includes Mutua, Dr. Amy Williamson, Dr. John Myrick and Dr. Jim Siders.
The second award from the U.S. Department of Education's Office of Special Education and Rehabilitation Services is a five-year grant totaling more than $1.5 million that will prepare teachers and vocational rehabilitation counselors to work with secondary/transition-age students with high intensity needs within a model called Service, Teaching, Advocacy and Rehabilitation, or STAR.
The overarching goal of the STAR project is to recruit, train and place 30 masters-level scholars with competencies for positions as special education teachers and vocational rehabilitation counselors to work with transition-age students with severe disabilities and evaluate the impact of an evidence-based approach to interdisciplinary training.
"The grant will make it possible for UA's College of Education to support graduate students to earn a master's degree in either special education, severe disabilities or vocational rehabilitation counseling," said Mutua. "STAR scholars will receive full tuition funding through the grant as well as a stipend to enable them to participate in an on-campus summer institute hosted in the CrossingPoints program."
The project team for this grant includes Mutua, Williamson and Dr. George Mugoya.