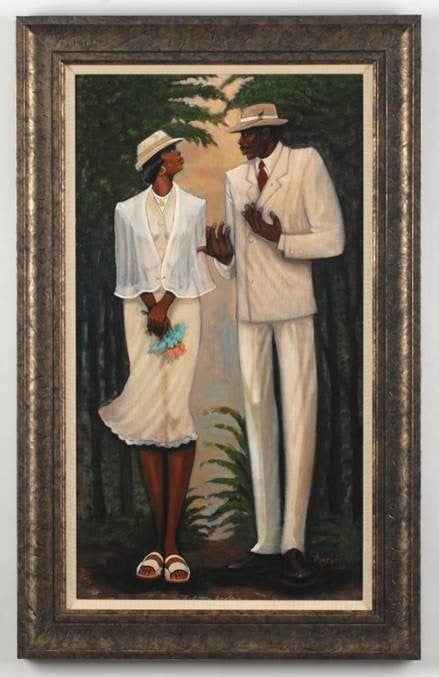 TUSCALOOSA, Ala. – The University of Alabama's Sarah Moody Gallery of Art, Paul R. Jones Museum of American Art and University of Alabama Gallery have reopened for in-person visitation.
All three galleries are free.
The Sarah Moody Gallery of Art is located on campus at 103 Garland Hall, and is open from 10 a.m. to noon and 1-4:30 p.m. Tuesday through Friday.
Visitors must practice social distancing and wear face coverings. No more than 15 people can be in the gallery at one time.
"Because of coronavirus the department held virtual shows in the later part of the spring and during the summer," said Vicki Rial, exhibitions coordinator for the Sarah Moody Gallery of Art. "It's great to have people back in here.
"Our current exhibition is called 'Wobble,' which is about how the Earth has a slight wobble," she continued. "Everything that's going on in our world right now has thrown us into a crazy place so that we're sort of in a wobble too. So that's the theme."
Wobble features 29 wall-mounted pieces of abstract, realistic and expressionistic work from the Sarah Moody collection, Rial said. The pieces on display will change every three-to-four weeks, though they'll all remain under the Wobble title.
Daniel White, museum director of the Paul R. Jones Museum of American Art and UA Gallery, said they started re-opening the galleries for a few hours a day in late August. They're now fully opened.
The Paul R. Jones Museum's operating hours are from 9 a.m. to 5 p.m. Monday through Friday. UA Gallery's hours are Monday through Friday from 9 a.m. to 4 p.m. on Monday, Wednesday and Friday, and from 9 a.m. to 3 p.m. on Tuesday and Thursday.
The Paul R. Jones Museum is located at 2308 6th St. and UA Gallery is located at the Cultural Arts Center on Greensboro Avenue across from the Bama Theatre.
Masks and social distancing are required at both galleries. The Paul R. Jones Museum is limited to 10 people at one time and the UA Gallery has a limit of 50 people at once.
"A big part of what we do is bring people into the exhibits so we're very glad to be reopened," White said. "There's only so much you can do with virtual galleries. Nothing beats the real thing."
From Oct. 2, 2020, to Feb. 26, 2021, the Paul R. Jones Museum will have the work of artist Charlie "Tin Man" Lucas on display.
Source
Daniel White, dlwhite4@ua.edu, Vicki Rial, vicki@ua.edu
Contact
Jamon Smith, Strategic Communications, jamon.smith@ua.edu, 205/348-4956
The University of Alabama, the state's oldest and largest public institution of higher education, is a student-centered research university that draws the best and brightest to an academic community committed to providing a premier undergraduate and graduate education. UA is dedicated to achieving excellence in scholarship, collaboration and intellectual engagement; providing public outreach and service to the state of Alabama and the nation; and nurturing a campus environment that fosters collegiality, respect and inclusivity.