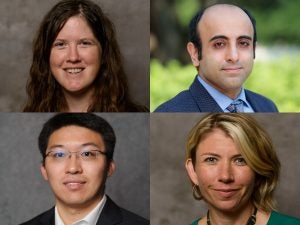 TUSCALOOSA, Ala. – Over the summer, four professors at The University of Alabama received national recognition early in their careers for innovative research that will increase understanding of our world while boosting UA's educational mission.
The National Science Foundation selected the four professors for a CAREER Award, one of the nation's most prestigious recognition of top-performing young scientists. The grants allow each researcher to train and motivate a new generation of scientists and engineers not only at UA through instruction and hands-on lab work, but also through outreach efforts to schools and community.
"NSF CAREER Awards are outside validation that the University has some of the brightest, nationally recognized researchers teaching and mentoring our students," said Dr. Russell J. Mumper, vice president for research and economic development. "The research behind these awards will help move science and engineering forward and benefit society."
The NSF Faculty Early Career Development, or CAREER, Program is a Foundation-wide activity offering the most prestigious awards in support of early-career faculty with the potential to serve as academic role models in research and education and to lead advances in the mission of their department or organization.
Currently, 32 UA faculty from disciplines across campus received NSF CAREER Awards during their tenure. During the 2019-2020 academic year, seven professors received this award, the most awards in a single year at UA.
An NSF CAREER Award will fund projects by Dr. Carla Atkinson, associate professor of biological sciences; Dr. Kasra Momeni, associate professor of mechanical engineering; Dr. Sonya Pritzker, associate professor of anthropology; and Dr. Feng Yan, assistant professor of metallurgical and materials engineering.
With her award, Atkinson will continue her work studying freshwater mussels, an imperiled faunal group that clean water by filtering small organic particles out of the water column and into their gill chambers. While freshwater mussels can be overlooked, they are incredibly diverse in Alabama and play key roles in the ecology of aquatic ecosystems. This project will help in understanding the role of freshwater mussels in maintaining water quality through cycling of important nutrients in river ecosystems, informing conservation of the species.
Momeni's award will assist in a project that seeks to better understand synthesis of two-dimensional solid materials consisting of a single atomic layer. These materials are critical in advancing the capabilities of several technologies, including electronic devices, water purification and solar power applications. Momeni plans to develop computer models that accurately simulate the growth of these materials not only to understand the process, but develop a database of knowledge on how they grow and apply artificial intelligence to discover optimal and novel synthesis processes.
For Pritzker, the award will fund a multi-phase, longitudinal project investigating the relationship between everyday interaction and embodiment among individuals and couples involved with either social justice or civic engagement in the United States and internationally. The study will provide insight into how long-term relationships are mediated by multiple social, historical and local factors beyond the couple. It will also continue to develop a new method of anthropological research combining linguistic and biological anthropology, which Pritzker is developing with other UA professors.
The award to Yan will develop an emerging solar cell technology through advanced materials and device engineering to efficiently convert solar energy to electricity, which uses a new class of earth-abundant and environmentally friendly materials, known as antimony chalcogenides. The project aims to unlock the fundamental mechanisms of the power conversion efficiency loss via a systematic materials science and device physics understanding. This work will pave the way to commercialize and scale up this newly developed solar cell technology to provide more affordable and sustainable solar electricity.