In Alabama, fall means football, changing leaves and, sometimes, severe weather.
To remind everyone to be prepared, the National Weather Service has designated Oct. 21 as Fall Severe Weather Awareness Day.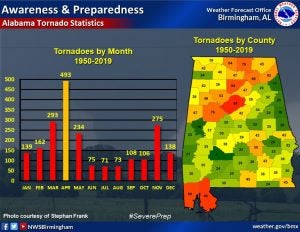 While severe weather primarily occurs in the spring across the U.S., Alabama is one of the few places that experiences a secondary severe weather season, which typically runs from the beginning of November through mid-December.
Since 2001, there have been 228 tornadoes across Alabama in the fall resulting in 24 deaths and 280 injuries according to the weather service. Regardless of their strength, all tornadoes are capable of causing damage and injuries and should be considered dangerous.
Tips to remember as we enter the fall severe weather season:
Have a way to receive information.
Make sure you have a way to receive severe weather watches and warnings. The UA Safety app provides weather information for Tuscaloosa County, and UA Alerts are sent when a tornado watch or warning is issued for the campus area. To receive UA Alerts, make sure your contact information, including your mobile phone number, is up to date in myBama.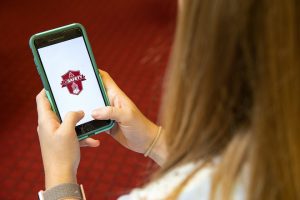 You can also receive severe weather information by listening to 92.5 FM UA Info Radio or by following @UA_Safety on Twitter.
Know where to go.
During tornado watches and warnings, you should seek shelter in one of the storm shelters on campus.
If you are not able to make it to a storm shelter, seek shelter in the closest Best Available Refuge Area, or BARA. The BARA location can also be found on building emergency plans posted near entry/exit locations and within the UA Safety app.
If you are not on campus, you should seek shelter on the lowest floor in the center of the building and stay away from windows. Do not seek shelter in a vehicle or a mobile home. If you live in an apartment building, seek shelter on the lowest level. Do not remain in apartments on upper floors.
Have a plan.
Get ready for the severe weather season by developing your own personal emergency plan and by preparing a small emergency kit.
Watch this video to see how Big Al has prepared his emergency kit.
Learn more about being prepared for severe weather and other emergencies by visiting the Office of Emergency Management's website.
The University of Alabama, the state's oldest and largest public institution of higher education, is a student-centered research university that draws the best and brightest to an academic community committed to providing a premier undergraduate and graduate education. UA is dedicated to achieving excellence in scholarship, collaboration and intellectual engagement; providing public outreach and service to the state of Alabama and the nation; and nurturing a campus environment that fosters collegiality, respect and inclusivity.