TUSCALOOSA, Ala. – Before Alabama and Georgia meet on the gridiron, fans will have the opportunity to see one of the most coveted awards a football team can win.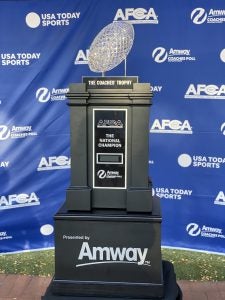 The American Football Coaches Association's, or AFCA, National Championship Trophy presented by Amway will be on display outside the entrance to the Paul W. Bryant Museum on Saturday, Oct. 17, from noon to 5 p.m.
"The Bryant Museum is honored to host the AFCA National Championship Trophy before the Georgia game," said Ken Gaddy, director of the Paul W. Bryant Museum. "This is a great opportunity for our fans to get a close look at this beautiful trophy that the Crimson Tide is playing to win."
Fans can have a contactless photo made with the trophy, which features an eight-pound Waterford Crystal football displayed on an ebony base and is valued at $30,000. It is presented to the No. 1 ranked school in the Amway Coaches' Poll, the National Champion, at the end of the college football season.
For health precautions, the museum will provide disposable masks, gloves and hand sanitizer. Fans also will be asked to practice social distancing while standing in line to see the trophy.
The University of Alabama has won the trophy six times, the most of any school since the trophy was first presented in 1986.
The Bryant Museum will be open from 9 a.m. to 6 p.m. before the Georgia game. Patrons wishing to visit the museum before or after seeing the AFCA National Championship Trophy must reserve a timed ticket beforehand from the museum's ticketing website.
Source
Ken Gaddy, director, Paul W. Bryant Museum, kgaddy@ua.edu
Contact
Shane Dorrill, UA communications, 205-348-8319, shane.dorrill@ua.edu
The University of Alabama, the state's oldest and largest public institution of higher education, is a student-centered research university that draws the best and brightest to an academic community committed to providing a premier undergraduate and graduate education. UA is dedicated to achieving excellence in scholarship, collaboration and intellectual engagement; providing public outreach and service to the state of Alabama and the nation; and nurturing a campus environment that fosters collegiality, respect and inclusivity.