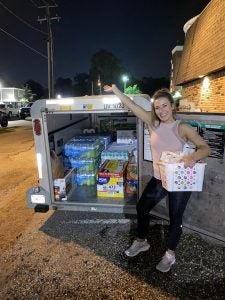 In the early morning hours of Aug. 27, Hurricane Laura ripped through Louisiana. Five hundred miles away in Tuscaloosa, UA sophomore Kana Webb watched live coverage as the town where she grew up was torn apart.
"Hurricane Laura devastated my hometown of Lake Charles and the surrounding areas," the biology major said. "There are people who lost everything, people who have nothing — no running water, no power. Some aren't expected to have power back until November. Where do you go from there?"
Among those with significant damage was Webb's grandmother, whose house was flooded and struck by a tree. But even though the material loss was great, it's much deeper than that.
"My grandmother and so many others are struggling with the emotional side of this," said Webb. "There's so much more to it than a house. It's a home, and it has so many memories with it. Financial issues aside, there's an emotional aspect to losing a home and to losing everything that you have. There's a sentimental side to it."
As Webb watched the destruction of Hurricane Laura unfold on the news, she immediately started thinking of what she could do to help.
"My heart broke for the people," she said. "It broke for my family. I wished I could just hug them and everyone in my hometown in that moment."
Being seven hours away from home prevented her from wrapping her arms around the people and town she loves, but she knew she had to do something.
"With the limited resources available in Lake Charles following the hurricane, I figured the first thing I could do was organize a supply drive," Webb said.
She reached out to her friends, sorority sisters and a few campus organizations she's involved in, including the Student Government Association, the Panhellenic Association and the Center for Service and Leadership.
"I was overwhelmed with the response that I received just from sending out a quick message to my friends and letting them know the situation," she said.
A few days later, Webb packed a trailer full of supplies and headed out to deliver over $1,500 worth of donations to a local church in Lake Charles.
"They were so grateful to have received all of that," said Webb. "It was basic necessities, but those are the things they were running out of and needed most — toilet paper, hygiene products and water."
This is only the beginning of Webb's efforts. With the support of SGA, the Panhellenic community, Beyond Bama and the Capstone College of Nursing, she is partnering with United Way of West Alabama to raise money for those impacted by Hurricane Laura and to aid in rebuilding.
"I'm having trouble putting into words how thankful I am," Webb said. "I'm so grateful for my friends, for my new family at UA that has contributed and helped out in a time of such need for my hometown. Thank you to everyone who has offered donations, supplies or even just support. Y'all are all amazing, and I am so grateful, and so is Louisiana."
Watch Webb tell her story below.